A MORE pleasant ambience now awaits patrons of Akka Nasi Lemak Viral as its proprietor Sangeetha Manimalar has found a new site for her stall at Kiosk MBSJ No 17 &18, Jalan PUJ 3/10 effective June 1 (Thursday).
The new site is a short distance away from her once 'open air' stall which was located in front of the Hong Leong Bank in Jalan PUJ3/2, Taman Puncak Jalil, Seri Kembangan.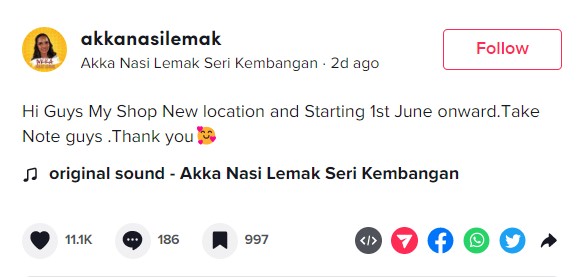 However, operating hours remain unchanged from 7am to 12 noon daily with one off-day which Sangeetha will notify in advance on her TikTok page (which boasts 111,500 followers and 762,800 likes at the time of writing) as follows: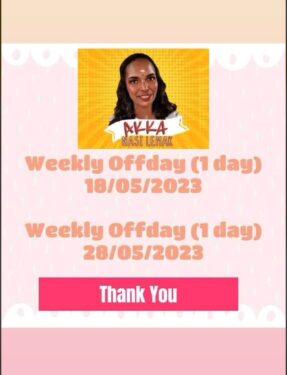 Hopefully, the 'covered' kiosk would spare nasi lemak lovers from having to queue up under scorching sun amid the current heat wave spell in addition to the rain and other uncertain weather conditions.
As congratulations poured in, jothimarkandoojot reminded Sangeetha to ignore negativities that people say to her.
"Hi Akah, congrats. Do what u think is right and good for you. Ignore all negative comments. Think positive and move on. Om Sai Ram," reminded the netizen.

Life_for_jesus suggested that Sangeetha opts for e-hailing food delivery services in the likes of GrabFood, foodpanda and Lalamove.
"Hopefully, God will bless you with more orders," the netizen prayed for Sangeetha while Amy Si was excited that Sangeetha's new 'shop' opening coincided with her birthday.


All-in-all, it is a mountain to climb for Sangeetha to manage a business which boasts an element of FOMO (fear of missing out) that is further amplified by social media so much so that her nasi lemak business is able to attract a massive cult following almost overnight.
As highlighted by the SmartDory Travel and Food Blog, the hype and excitement around viral food can lead to disappointment if the food does not meet expectations.
"Waiting for and not getting hold of the object of one's FOMO can result in negative reviews and a loss of business as customers move on to the next viral sensation," cautioned the food blog.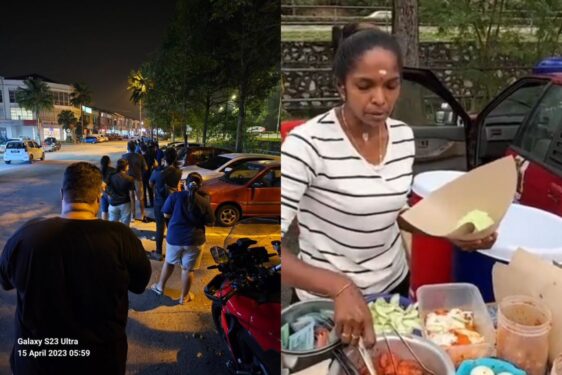 "Viral food businesses must consistently maintain quality food to manage customers' expectations. This requires careful management and attention to detail to ensure the food is always fresh, delicious and meets customers' expectations."
While offering seating, water and shade to make the wait more comfortable might not be possible, managing the queue is vital as tempers may flare.
"Viral food businesses must also be prepared to handle the sudden influx of customers that come with their newfound success. This includes hiring additional staff, increasing production capacity, and streamlining operations to ensure customers are served quickly and efficiently," added SmartDory.
These are all food for thought certainly for Sangeetha to bring her Akka Nasi Lemak Viral business to the next level. – May 30, 2023