FIRSTLY, a belated Happy Chinese New Year!
If you're a parent who celebrated Chinese New Year and your children have received angpows (red packets), how about using the situation as a financial learning opportunity for them? Interested? Read on.
First, organise a family session of counting your children's angpows. Open each angpow one by one and encourage your children to count them. If counting is done together as a family, it can be fun! Your children can practice their math addition skills whilst you can quietly guess who is the most generous relative!
Secondly, ask each child to separate their angpow into three separate piles of equal value (now, they're practising division). Then tell them one pile can be used for them to buy something for themselves, but the other two piles will go towards their savings (the number of piles can be adjusted depending on the amount you think they can spend on themselves).
Now is a good juncture to explain the concept of savings to your children. It's money that we put aside to buy something more important, like a house or an education. We can also explain that we save money for emergencies too. And because savings are important, we allocated two piles to it.
Affirm the amount in their two savings piles and say you will organise another day with them to go to the bank or ATM together, to deposit the money into their savings accounts.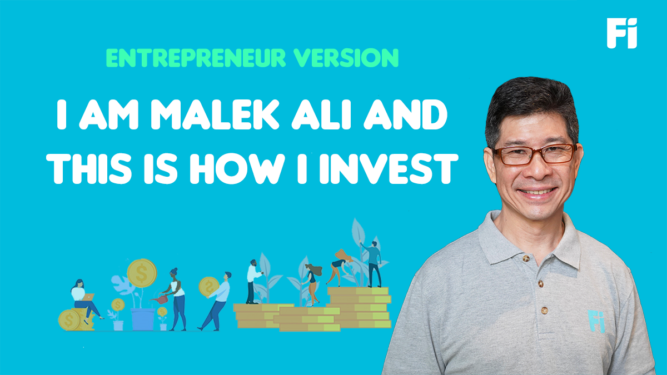 Going together to the ATM is another learning opportunity.  Show them how to deposit their savings money, the ATM deposit receipt, and the balance of their savings account before and after the deposit. Now they know that the ATM does not operate in one (outward) direction only!
Whether you leave the money in your children's savings bank account or make it work harder is the next question. I would encourage you to explore an additional option for a portion of your children's savings. Until very recently, savings accounts generated very low interest rates that did not keep up with inflation. So, on their behalf, we need to invest their savings.
I would recommend robo-adviser apps (formally called Digital Investment Management apps) for their simplicity in demonstrating the concept of investment to your children. There are currently eight robo-adviser apps licensed by the Securities Commission Malaysia (SC).
I would choose one with a good track record, and which gives you the ability to create separate portfolios which you can label with your individual child's name
Create the portfolio on the app together with your children. Name the portfolio with your individual child's name, so that they feel a sense of ownership over it. Unless you or your child needs their savings in the near future, choose the most aggressive portfolio (their investment time horizon is long, so an aggressive equity heavy portfolio is fine).
Check the portfolio together with your children every few weeks. If your children are teenagers, take the opportunity to explain about stock markets and explain the ups and downs of their portfolio.
When your children see how calm you are during the downs, you are teaching her not to fear markets, but to learn how to navigate them (if you need help with any explanation, just check out the market summaries published by the robo-advisers). By being a financial coach to your child, you have to brush up on your own financial literacy too, and that's not a bad side benefit.
Oh yes, what about the spending pile? An angpow is a gift after all, and whoever gave your children an angpow will want them to be happy. Encourage your children to think hard about what they would truly value and help them weigh their options.
Do not send your child to the shopping mall the next day without a shopping objective; they will be likely to buy something on impulse which they would tire of very quickly.
With these practices, you're on your way to raise financially confident children.
Here's wishing you a productive Year of the Rabbit and may you and your family be blessed with abundance of wealth and health in 2023! — Jan 29, 2023
Malek Ali, founder of  Fi Life (www.fi.life) and BFM 89.9, and a  CFPTM professional. He is also a CFP professional and a certified member of the Financial Planning Association of Malaysia (FPAM) as well. (Malek's children receive both angpows and duit raya, so he gets to organise family counting sessions twice a year!).
The views expressed are solely of the author and do not necessarily reflect those of Focus Malaysia.