TA SECURITIES Research has valued ACE Market-bound Pappajack Bhd – the first licensed pawnbroker to be listed on Bursa Malaysia – at 34 sen or 13.3% above its initial public offering price of 30 sen.
The research house has based its valuation on Malaysia's average non-banking financial institution (NBFI) price-to-book (P/B) ratio of 1.4 times to the company's FY2021E book value.
"Our valuation takes into account the (i) potentially stronger revenue growth prospects due to Pappajack's aggressive expansion plans; (ii) healthy double-digit gross margin of around 40%; and (iii) first mover advantage by being the first pawnbroking business to be listed in Malaysia," opined analyst Li Hsia Wong in an initial public offering (IPO) review.
Slated for listing on April 1 (Friday), Pappajack enjoys six competitive advantages, namely:
Positioned to support those who are financially unserved or underserved by providing short-term micro-loans;
Its pawn loan offer is secure because it is all collateralised by pledges;
In possession of the ability to provide immediate access to pledge-backed short-term microloans;
Store employees have the technical skills and expertise required to assist consumers efficiently;
Supported by a network of pawnbroking stores strategically positioned in convenient locations; and
Skilled management team.
"Annualising its FY2021 performance, we estimate the group to register a 10.1% increase in revenue but an 11.8% year-on-year (yoy) decrease in core profit to RM7.2 mil due to initial running expenditures and the gestation period required for new outlets to earn profit," projected TA Securities Research.
"We further foresee revenue growth of circa 10% in FY2022 due to opening of another five outlets but net profit could slip by another 0.5% due to the two-year gestation period. We believe the group should be able to post stronger profit growth of around 10% in FY2023 to RM7.9 mil."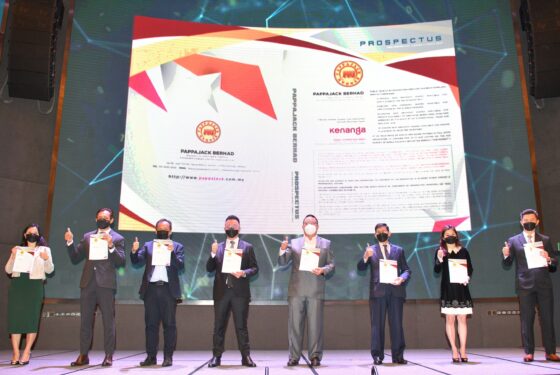 According to an independent market research report done by Smith Zander, there are 716 companies with pawnbroking licenses issued by the Housing and Local Government Ministry (KPKT) which oversees pawnbrokers under the Pawnbrokers Act 1972.
For the record, KPKT has set the maximum amount of pawn loan that may be issued under a single pawn ticket at RM10,000 as well as the monthly interest rate of 2%.
Studying the pawnbroking industry in six states namely Johor, Kuala Lumpur, Negeri Sembilan, Pennag, Perak and Selangor, Smith Zander noted that the pawnbroking industry in these six states represented circa 79% of Malaysia's pawnbroking industry in 2020.
In terms of revenue, the pawnbroking industry in Malaysia grew from RM930 mil in 2017 to RM1.11 bil in 2019 but declined slightly to RM840 mil in 2020, thereby registering an overall compound annual growth rate (CAGR) of 5.76% during the period.
In 2020, Smith Zander estimates that Pappajack commands a market share of 3.66% in the six states which it operates and 2.88% of the overall pawnbroking industry in Malaysia.
"All-in-all, our FY2021-2023 earnings projections are premised on the key assumptions of stronger than industry's revenue growth due to the opening of several new outlets (another five in 2022) and gross margins of around 40% for FY2021-FY2023 respectively," added TA Securities Research.
The research house listed key risks that Pappajack may face as follows:
Exposure to illegal and suspicious pawn transactions and transactions of stolen gold or luxury watches;
Subject to regulatory requirements for pawnbroking business which require licence renewal every two years;
High liquidity risk as the pawnbroking business requires substantial cash capital for operations; and
The pledge value is susceptible to gold price volatility. – March 16, 2022