IT seems that whistleblowers who exposed the blatant 'fire sale' of the Menara Kuala Lumpur concession to a so-called financially troubled company could now be having the last laugh or able to laugh the loudest.
They were vindicated by the swift action of Malaysian Anti-Corruption Commission (MACC) who had not only nabbed two senior company directors but had both men brought to the Putrajaya Magistrates Court today (despite being a weekend) where the duo would be remanded for four days beginning today (Jan 7).
MACC's chief commissioner Tan Sri Azam Baki who confirmed the remand order when approached by the The Star said both men, Abdul Hamid Shaikh Abdul Razak Shaikh and Tan Ser Lay, are the Hydroshoppe Sdn Bhd managing director and Romantique Gallery Sdn Bhd director respectively.
It was earlier reported that the two men, aged 49 and 59, who both supposedly have Datuk titles respectively, were arrested at the MACC office in Putrajaya yesterday (Jan 6) afternoon after giving their statements.
"It is suspected that the selection of the company concerned involved a request for bribe money amounting to hundreds of thousands of ringgit and a luxury watch as a gift to the 'superior' to facilitate the take-over," The Star quoted as source as saying.
Recall that FocusM had on Dec 29 questioned if Telekom Malaysia Bhd (TM) has short-changed itself by disposing its 100% interest in Menara Kuala Lumpur Sdn Bhd (MKLSB) for a mere RM3.8 mil when the net profit recorded by the latter through concessions and the right to manage Menara KL was said to be worth as much as RM20 mil in 2019 (2018: RM25 mil).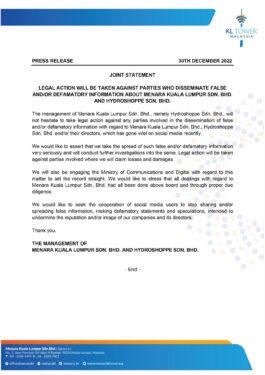 On the same day, the MACC said it had summoned three people in connection with its investigation into allegations over the suspicious sale of shares involving the management ownership of the KL Tower.
Interestingly, the management of Menara Kuala Lumpur and Hydroshoppe Sdn Bhd had on Dec 30 issued a media statement, 'threatening' "legal action against parties who disseminate false/and or defamatory information about MKLSB and Hydroshoppe".'
"The management of MKLSB, namely Hydroshoppe will not hesitate to take legal action against any parties involved in the dissemination of false/and or defamatory information with regard to MKLSB, Hydroshoppe and/or their directors which have gone viral on social media recently," read the joint media statement by MKLSB and Hydroshoppe.
"We would like to asset that we take the spread of such false and/or defamatory information very seriously and will conduct further investigations into the same. Legal action will be taken against parties involved where we will claim losses and damages". – Jan 7, 2023