IN A podcast, former UMNO Youth chief Khairy Jamaluddin (KJ) has stated that it would be better to release former Prime Minister Datuk Seri Najib Razak as such a move would help the unity government combat the rising green wave influence.
Alongside his Keluar Sekejap podcast co-host Shahril Hamdan, KJ claimed that the unity government had sold out by letting Deputy Prime Minister Datuk Seri Zahid Hamidi go scot free from the alleged 47 corruption charges pertaining to Yayasan Akalbudi.
Although initially having a prima facie case to answer, the UMNO president was given a discharge not amounting to an acquittal (DNAA) by the Kuala Lumpur High Court, a decision which has sparked outrage among many Malaysians who are perturbed by the turn of events.
This obviously includes KJ – Zaidi's nemesis in UMNO – who was scathing with his observations, stating: "Compare 'Bossku' (Najib) to Zahid, he would bring more value in curbing the 'green wave'. What can that guy (Zahid) do? He has no value."
Added the former health minister: "If you're going to kitchen-sink, kitchen-sink the whole damn thing and let Najib out – he will bring more value to you. You've already ended the innocence of Malaysia. Grant amnesty."
Recall that KJ was sacked from UMNO while Shahril is currently serving a six-year suspension from the party. The latter was of the opinion that Pakatan Harapan (PH) chairman Datuk Seri Anwar Ibrahim had struck a deal with Zahid in order to form the unity government.
The political cost of caving into these demands is a loss of credibility for the Reformasi movement with the pair labelling Malaysia a "nation of compromises".
"PKR, Keadilan, Harapan. You were supposed to be the ones that kept us honest. But you guys sold out.
"Who else is going to fight (for) the reformation of institutions? Nobody will believe a single word you say when you talk about governance. So where does Malaysia go from this?" Shahril questioned.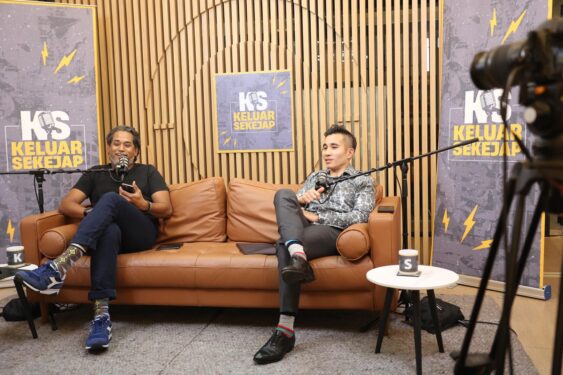 The podcasters also predicted that Zahid's DNAA will eventually lead to calls within UMNO to release Najib to become even more deafening.
"I don't think that question can be held off for long. How much time before it causes tensions in UMNO until Zahid caves in (to their demands)?" queried Khairy.
Khairy and Shahril may have raised valid points in that Zahid's DNAA has greatly tarnished the judicial process where horse-trading and not actual justice is being dispensed.
No matter what lip service is being paid by the unity government on the issue of separation of powers, the court of public opinion is clear on what it feels is an abuse of process.
Indeed, it is inevitable that the calls to absolve Najib of his wrong doings will become deafening in light of Zahid's DNAA.
Supporters of the jailed premier will point to Zahid's case as a new precedent whereby wrongdoings are swept under the carpet to facilitate the real politics of holding onto power which ultimately is the end game here.
Disheartened Malaysians, too, cannot help but agree when the podcasters say: "We used to be a nation of hope. We are not a nation of hope or ideals anymore; we are a nation of compromises." – Sept 7, 2023