DAP VETERAN Lim Kit Siang has shortlisted five candidates for the 10th Prime Minister (PM) of Malaysia post in which he described Opposition leader Datuk Seri Anwar Ibrahim as the "superior candidate".
The other four candidates are UMNO president Datuk Seri Ahmad Zahid Hamidi, caretaker PM Datuk Seri Ismail Sabri Yaakob, former PM Tan Sri Muhyiddin Yassin and PAS president Tan Sri Abdul Hadi Awang.
"At present, there are only three coalitions which could form the Federal Government in Putrajaya after the 15th General Election (GE15) on Nov 19: (i) UMNO-Barisan Nasional (BN); (ii) Perikatan Nasional (PN) coalition of Bersatu and PAS; and (iii) the Pakatan Harapan coalition of PKR, DAP, Amanah and UPKO," rationalised the 81-year-old Iskandar Puteri MP.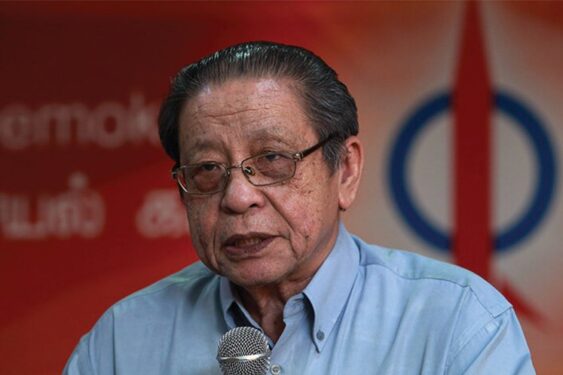 "There is no doubt that from the slate of candidates for the 10th PM of Malaysia, Anwar is a superior candidate as compared to Zahid or Ismail Sabri of the UMNO/BN coalition and Muhyiddin or Hadi of the PN coalition," he stated in his speech in conjunction with the unveiling of the Pakatan Harapan (PH) Sarikei candidate for GE15 yesterday (Oct 23).
(Editor's note: DAP Sarawak will be fielding 32-year-old former banker Roderick Wong who is the son of incumbent Andrew Wong Ling Biu as its candidate.)
For Zahid who claims that the UMNO/BN coalition has achieved great things for Malaysia, Kit Siang challenged him to explain the following developments:
What he meant by progress when in 1965 one Singapore dollar was worth RM1 but after 60 years, S$1 is now worth RM3.30?;
Why is Malaysia losing out to Taiwan, Singapore, South Korea, Hong Kong and Vietnam – and probably to many more nations soon – at the rate the country is regressing?;
Why is it that Malaysia is drifting lower and lower in the Transparency International's (TI) annual Corruption Perception Index (CPI)? Since 1995, China, India and Indonesia have closed the gap of a clean and honest government with China likely to overtake Malaysia in the TI CPI this decade, and India and Indonesia to follow suit in the next;
Malaysia had good schools and universities in the early decades but is now losing out to other countries with the country finding itself in the bottom third of the world in maths and science education.
As for Ismail Sabri, Kit Siang doubts that the Bera MP will be able to retain his premiership even if the UMNO/BN coalition emerges victorious in GE15.
"Zahid says that Ismail Sabri will be the PM if the UMNO/BN coalition wins. I do not think that Ismail Sabri fully trusts Zahid although he has to pretend that Zahid will be true in his words," reckons the DAP supremo who has devoted 57 years of his life in pursuit of his Malaysian Dream.
"Do we want Muhyiddin the "back-stabber" or Hadi, the extremist Islamist who says that corruption among Muslims is all right but not among the non-Muslims to be PM?
Apart from PH, Kit Siang opined that neither the UMNO/BN nor the PN coalitions embrace Malaysia as a plural society of diverse races, languages, religions and cultures.
"Only Anwar and PH embrace the concept that Malaysia must be for all races and religions who have made a home in Malaysia – that for Malaysia to become a great world-class nation, we must unite all races, religions and regions in the country," he asserted.
"This is why Anwar is the superior candidate to be the 10th PM of Malaysia as compared to the other candidates from the other two coalitions – UMNO/BN and PN." – Oct 24, 2022