EDUCATION Minister Fadhlina Sidek knows that her ministry (MOE) plays an important role in shaping the future of Malaysians in years to come.
Yet, I am surprised that from a list of nine members in the National Education Advisory Council (NEAC) for 2023-2025, only one Indian and one Chinese are representing the other two communities. There is not even a single Sabahan or Sarawakian in the NEAC.
Without a doubt, education has always been the major focus of most Chinese parents. Indians, too, have excelled in the education system through the history of this nation because there were members of the teaching profession among those early migrants from South India.
Instead of being sent to kindergarten, my parents put me along with my sisters to learn from a young Indian man. I was able to do Primary 2 and 3 Maths when I was only six.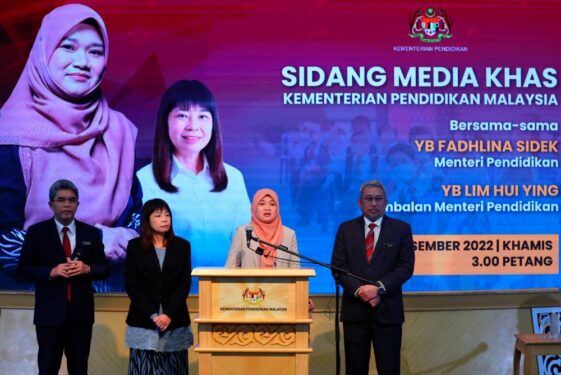 In order to win back the confidence of the other races in our education system, the views of the Chinese and Indian communities must also be taken into serious consideration and not just-for-the-show sake.
Need for plurality in views
Therefore, as a good starting point for education reform, the Education Minister herself must begin by changing her mindset and invite the participation of communities other than her own race.
Unless of course we are pushing our own agenda, we should no longer be threatened by the presence of other races in a committee or when others have a different view.
More people should be given an opportunity to serve the NEAC to get the best ideas to be implemented for the sake of our common future together as Malaysians.
As plurality is what adds colours to the country's social fabrics, I would have expected Pakatan Harapan (PH) to be more progressive. After all, many of us have fought so hard in the last few national polls to ensure PH's victory and to see that Datuk Seri Anwar Ibrahim eventually becomes the Prime Minister.
For the record, I pulled out my children from the national type school system because I had lost confidence in the country's education system when Maszlee Malik was helming the MOE.
Even though I have to carry the burden of paying school fees every month, I feel it is still the best option for my children. And so far, they are performing so much better in their studies compared to their early years. – Jan 20, 2023
Stephen Ng
Kuala Lumpur
 The views expressed are solely of the author and do not necessarily reflect those of Focus Malaysia.
Main pic credit: The Star