JUST as we had predicted in "OPR to Reach 2.75% by End-2022 and 3.25% by 1H 2023" and "3 More OPR Hikes Forecasted in 2022 Amid Soaring Inflation", Bank Negara Malaysia (BNM) has continued with its monetary policy normalisation with a third 25 basis point (bps) hike in a row of the Overnight Policy Rate (OPR) in September to bring the benchmark interest rate to 2.50%.
We also previously forecasted the OPR to reach 2.75% in November 2022, January 2023 (3.0%) and March 2023 (3.25%).
iFAST Research is of the view that BNM will not pivot in the next MPC Meeting on Nov 2-3. Hence, we continue to maintain the previous forecasts due to the following reasons:
Inflation remains persistently high
Malaysia's headline inflation came in at 4.5% in September 2022, lower than the consensus forecast of 4.6% and August's 4.7%. Although this points to some abating of inflationary pressures, the 4.5% inflation rate is still higher than the long-term average.
Meanwhile, core inflation remains on the high side, clocking in at 4.0% in September 2022, comparing to August 2022 with some signs of demand-driven pressures amid the high-cost environment.
At the same time, high Producer Price Index (PPI) growth indicates that manufacturers are still facing supply chain bottlenecks and higher raw material prices which will translate to higher input costs and eventually lead to higher consumer prices.
We expect inflation to peak in 3Q 2022 before subsequently moderating due to dissipating base effects as global commodity prices ease.
Although we believe that inflation has peaked and would moderate going forward, we still expect inflation to remain relatively high compared to pre-pandemic levels and this would be one of the considerations taken into account by BNM during its monetary policy decisions.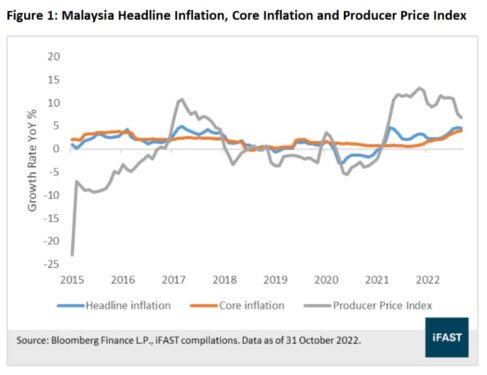 Greenback continues to appreciate against ringgit amid widening interest rate differential
The aggressive rate hikes from the US Federal Reserve have led to the widening interest rate differential between the US Fed Funds Rate (FDTR) and OPR, resulting in the sharp appreciation of the US$ against RM year to date (see Figure 2).
Currently, the US$/RM is trading at a record high of 4.7290 (as of Oct 31), up 13.5% year-to-date (YTD) whereas the gap between the FDTR and OPR increased from -1.5% at the start of the year to 0.75% which is the highest level since the Global Financial Crisis 2008/2009.
Hence, we believe that the US$/RM appreciation is another consideration for an OPR hike. In order to lessen some of the impact from the widening interest rate differential, we think BNM would have to increase the OPR accordingly albeit at a slower pace.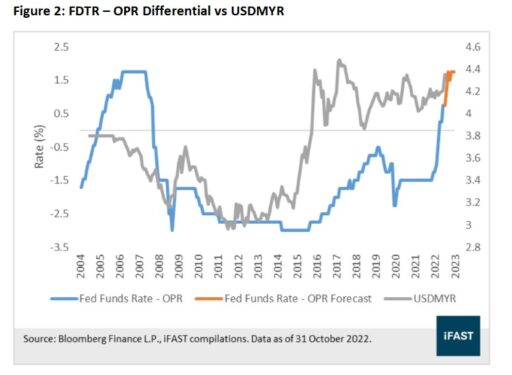 Negative real interest rates detrimental to savers
Malaysia's real interest rate which is the nominal interest rate minus the inflation rate has been in negative territory since April 2021 (see Figure 3). A prolonged negative real interest rate is detrimental to savers as inflation erodes savings and diminishes the purchasing power of consumers.
With inflation remaining persistently high, we think that it is imperative that BNM take proactive measures to alleviate the negative impact arising from the negative real interest rates.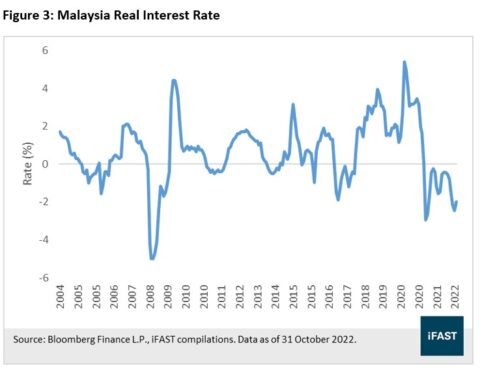 Resilient domestic economy gives BNM leeway
The Malaysian economy posted an impressive growth of 6.9% year-on-year (yoy) for 1H 2022. More recent leading indicators such as the Leading Economic Index and Industrial Production continue to paint a resilient macro picture for Malaysia (see Figure 4).
We think that the resilient domestic economy gives BNM leeway to further adjust the degree of monetary accommodation and support the post-pandemic economic recovery.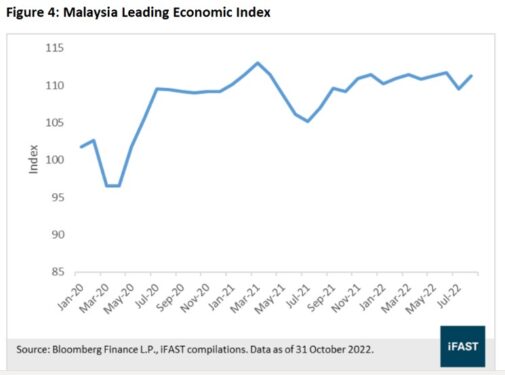 Conclusion: BNM unlikely to pivot in the next MPC meeting
iFAST Research is of the view that BNM will not pivot in its next MPC meeting on Nov 2-3 after taking into consideration the persistently high inflation, appreciating US$/RM, negative real interest rates and resilient domestic economy.
Hence, we forecast that the OPR will be increased to 2.75% in November 2022, 3.00% in January 2023 and 3.25% in March 2023.
What should investors do?
On balance, we believe the risk-reward for Malaysia fixed income is attractive due to abundant domestic liquidity. Currently, the local bond yields have priced in sufficient rate hikes and are trading at attractive levels.
For investors with higher risk appetite, we recommend medium to long duration Malaysia bonds as yields are back to pre-pandemic levels and we believe most of the hawkishness have been priced into the current yields already.
On the other hand, conservative investors can consider short duration bonds which would still allow investors to enjoy decent yields whilst taking on lower risk. – Nov 2, 2022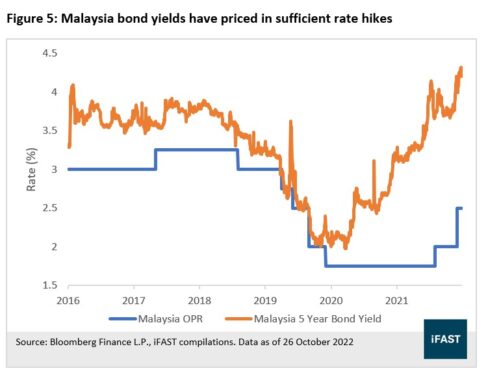 iFAST Capital Sdn Bhd provides a comprehensive range of services such as assisting in dealing, investment administration, research support, IT services and backroom functions to financial planners.
The views expressed are solely of the author and do not necessarily reflect those of Focus Malaysia.