SIX non-governmental organisations (NGO) representing over 320,000 Employees Provident Fund (EPF) contributors who have savings of RM100,000 or more in their retirement fund accounts have called on the government to allow targeted emergency withdrawals immediately.
The NGOs are the Global Human Rights Federation (GHRF), Pertubuhan Gagasan Inovasi Rakyat Malaysia (PGIRM), the Malaysian Muslim Consumers Association (PPIM), and Independent Living and Training Centre Malaysia. The representatives of the NGOs argue that people are struggling with economic challenges and rising daily living costs, and need to withdraw their EPF savings to restore their lives. However, the government has said the withdrawals allowed during COVID-19 lockdowns have reduced median EPF savings from RM16,600 to RM8,100.
Yesterday (Feb 17), the NGOs led by GHRF's president S. Shashi Kumar had submitted a memorandum for the attention of Prime Minister Datuk Seri Anwar Ibrahim to the special officer of Anwar's senior private secretary, Muhammad Fikri Khalid, at the Prime Minister's Department in Putrajaya.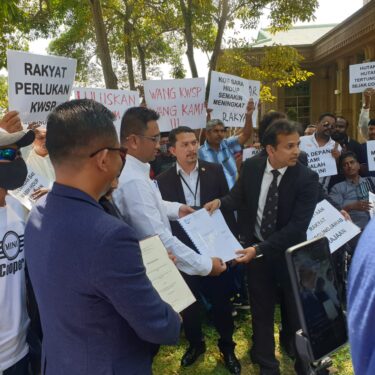 In a related development, Deputy Finance Minister Datuk Seri Ahmad Maslan had told the Dewan Rakyat that the government is not allowing any future withdrawals. While EPF withdrawal is a popular subject, some EPF account holders argue against withdrawals, citing fears that their savings will be depleted before their retirement age. The EPF is intended to help users in their retirement, and if savings are withdrawn now, who will support them in their old age? However, these arguments are drowned out by those calling for withdrawals. The NGOs say that not all EPF contributors are asking for withdrawals and that the government needs to consider those who are desperate to make withdrawals to help restart their lives and get through these difficult times. Among those who support immediate withdrawals, however, there are pressing questions about how and who will replace the money withdrawn from EPF accounts that remain unanswered. After several rounds of withdrawals, account holders are still complaining of dire economic situations while refusing to replace the money withdrawn. In conclusion, while the argument for emergency withdrawals from EPF accounts is being made by several NGOs, the government seems to be resisting the pressure due to the potential long-term effects of such withdrawals on individual savings and the economy as a whole. The EPF is meant to help people save for their retirement, and if individuals make withdrawals now, it may compromise their financial security in old age. On the other hand, those who are calling for withdrawals argue that they are in dire straits and need the money to rebuild their lives, but there is no clear answer to the question of how this money will be replaced. — Feb 18, 2023