WITH a three-term state government under Pakatan Harapan (PH) – and Selangor has become what it used to be before 2008 – would people give MUDA's candidate like Abe Lim a chance?
Without a stronger Opposition for checks-and-balances, a lot of the state government's decisions are bulldozed through.
This is where the 27-year-old Lim who made an impressive debut in a media statement on PJD-Link appears to be a well-educated candidate who understands the issues faced by the constituents.
FocusM speaks to Abe Lim who will be contesting in Bandar Utama against incumbent from DAP Jamaliah Jamaluddin.
Q: Why did you choose to get involved in politics?
While working on environmental projects, I saw that governments appear to be oblivious to people's complaints. I saw an opportunity to put my words into action and this is why I am here standing for Bandar Utama.
Q: Why Bandar Utama?
My challenge is not who I am against but the solutions I can bring to the people. Bandar Utama is a city with progressive citizens but the potential for the city to be efficient is stunted.
Five years ago, Jamaliah Jamaluddin said she would address traffic congestion and public transportation. Yet, these problems are still a big headache for us today, if not worse.
To solve the problem, a highway like PJD-Link is not going to benefit Bandar Utama residents. Instead, it will increase more cars entering the city. Buses are still not on time and the accessibility, like pedestrian paths, to the services are unsafe.
I have often asked why PJD-Link evolved from KIDEX despite an independent opinion poll showing that 93.6% of Petaling Jaya folks have strongly objected to the tolled highway.
Is the caretaker menteri besar Datuk Seri Amirudin Shaari not listening to the people's voices? I have asked for the impact assessment studies to be declassified but till today, he has refused to do it. Why?
If elected, I will be persistent to fight for issues in the state assembly. I do not have any hindrances or political hierarchy to keep me silent on voicing real issues.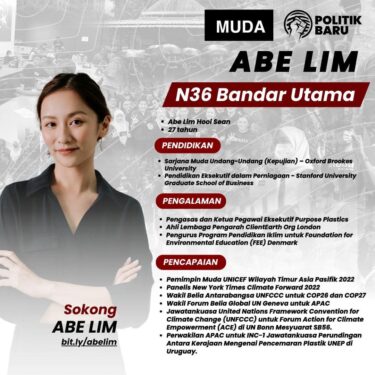 Q: Being a small party, MUDA will not be able to help you to get cooperation from the state government. How do you propose to fight for your constituency?
MUDA is open to cooperating with whoever wins the state government. We have a group of very progressive young people who are vocal and will ask critical questions. If we have enough elected representatives, we become the kingmakers. PH and Barisan Nasional (BN) cannot afford to ignore our voices – ultimately, the voices of Selangorians.
Q: What is your manifesto?
I have three buckets in my manifesto: (i) People-first Urban Planning; (ii) Holistic Environment; and (iii) Structured Governance.
People-first Urban Planning emphasises that development should be for the people and not developers. MUDA and I are not against development but only irresponsible development. Projects like the PJD-Link are examples that show that people's opinions were not considered. It will have a big impact on the property prices and increase the reliance on vehicles.
There is also the accessibility issue. Pedestrian paths are narrow and not safe at all along Bandar Utama. These paths are supposed to connect to public transportation services but if the pedestrian infrastructure is unsafe and inaccessible, people will rely on vehicles to reach their destination. If I get elected as an assemblywoman, I will not wait for an incident to find effective solutions.
Holistic Environment. Bandar Utama needs more green spaces. People need the parks and the urban gardens to make them happy and enjoy living in Bandar Utama.We also need our spaces to be free from stray animals roaming around. The Trap-Neuter-Release-Manage method is not only more humane but controls and eventually reduces the number of strays. This creates a safer and healthier community.
Structured Governance. As the Petaling Jaya City Council (MBPJ) councillors are currently appointed by the state, it is difficult for the people to make them accountable for their actions or inactions. We need to give back the power to the people on who they want as their councillors. I support local town council elections. Only with responsible governance can we effectively address urban planning and build a holistic environment!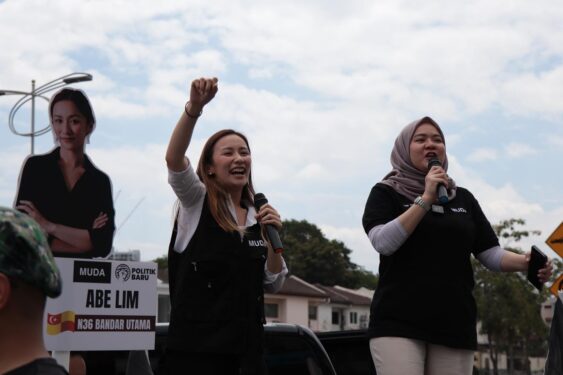 Q: What is your opinion of the caretaker State Government?
My question to Amirudin is what is being hidden in those documents classified under OSA (Official Secrets Act). Some of his colleagues from PH have asked for the agreement to be declassified. Even then, the reply they got was negative.
Until the full documents are released, the disrespectful act of not informing the people will persist in future projects.
In my opinion, Amirudin has betrayed the trust of Selangorians. It is not a coincidence that the PJD-Link was cancelled by a caretaker menteri besar. The media statement has no effect. When pressed further, it became obvious that he was still pushing ahead with the PJD-link.
I don't think he is ready to tell the whole story. Why do you think the state government classified these documents under OSA when Selangor was the first state to enact the Freedom of Information Act? Have we returned to the pre-2008 era?
And if entrusted by the people, I will be vocal for Bandar Utama voters in the state legislature. – Aug 9, 2023