NEEDLESS to say, 2022 was an eventful "Tiger" year. The training wheels came off in 2022 when significant fiscal and monetary policy support came to an end and was then reversed.
It caused a tempest – and if it were to stop today – 2022 would mark the first time that US stocks and long-term bonds have both decreased by more than 10% in the past 150 years with both markets having experienced significant declines.
In the early months of 2022, the Russia-Ukraine war sent the already-elevated inflation climbing even higher on the back of disruptions to food supplies as well as soaring energy prices.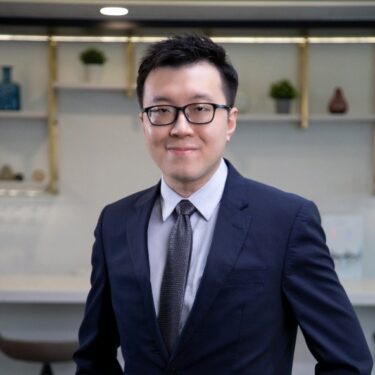 The US Federal Reserve and other central banks around the world were forced to play catch-up, raising interest rates at the fastest pace in decades. With aggressive tightening in place, economic growth has waned, and the world is now on the brink of a recession.
At a glance, 2022 was a tough year for equity markets. Amid high inflation and the most aggressive tightening campaign in decades, major global indices experienced double-digit losses with the S&P 500 having recorded its worst yearly performance since 2008.
Will stock markets jump this Rabbit Year?
According to traditional Chinese calendar, 2023 is the Year of the Rabbit; other Rabbit Years in recent history include 1939, 1951, 1963, 1975, 1987 and 2011.
As shown in Table 1, the Dow Jones Industrial Average and S&P 500 returned positively on six out of the seven occasions. The only time that markets experienced negative returns was in 1987 during the events of Black Monday.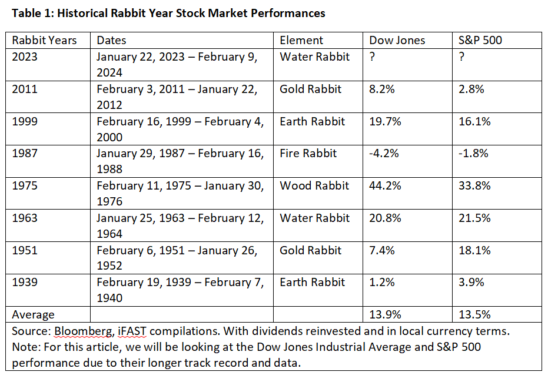 On average, the Dow Jones Industrial Average returned 13.9%, while the S&P 500 returned 13.5% across the 7 past Rabbit Years.
In particular, 2023 is the Year of the Water Rabbit. The last time Water Rabbit came about was 60 years ago in 1963 when the Dow Jones Industrial Average and S&P 500 jumped 20.8% and 21.5% respectively.
Although historical data seems to point towards a good year for investments going forward, we want to reiterate that past performance/feng shui is not a guarantee of future performance.
At iFAST, we are proponents of fundamental and value investing rather than feng shui.
With valuations across equity markets now brought down to attractive levels, various investment opportunities have resurfaced for investors again.
At the same time, we believe it pays to be more selective to try to pick the potential outperformers during a volatile market. – Jan 22, 2023
Jason Wong, CFA is a research manager at iFAST Capital Sdn Bhd which provides a comprehensive range of services such as assisting in dealing, investment administration, research support, IT services and backroom functions to financial planners.
The views expressed are solely of the author and do not necessarily reflect those of Focus Malaysia.
Main pic credit: CGS-CIMB Research