AS if being struck by a sudden high tide phenomenon, eligible Malaysians are now staring at the prospect of a snap poll which can be held as soon as mid-November following the Prime Minister's second audience with Yang di-Pertuan Agong Sultan Abdullah Sultan Ahmad Shah prior to the latter's departure to London last night (Oct 9).
Should a dissolution be called, then the 15th General Election (GE15) will have to take place within 60 days although UMNO – the forerunner and only political party keen to push for an early poll which otherwise can be held any time before September next year – has its eyes set on mid-November.
Unlike his first audience on Thursday (Oct 6) where it was business as usual to give the King a pre-Cabinet-cum-Budget 2023 briefing, this time around, Datuk Seri Ismail Sabri Yaakob has sought the audience to get the king's consent for the dissolution of Parliament.
"The dissolution of Parliament could be as early as tomorrow (Oct 10)," a source told the New Straits Times.
At a glance, this event was well-timed as it coincided with UMNO's special supreme council meeting tonight (Oct 10).
UMNO's executive secretary Datuk Sumali Reduan has confirmed with Berita Harian that the special supreme council meeting which will be chaired by party president Datuk Seri Dr Ahmad Zahid Hamidi will take place as scheduled at 8pm.
All-in-all, the PM has met the King on three occasions yesterday alone (Oct 9) – first at the national-level Maulidur Rasul celebration at World Trade Centre Kuala Lumpur, second at Istana Negara and third at the Royal Malaysian Air Force base when he sent off the King and Queen for a special visit to the UK from today (Oct 10) till Oct 16.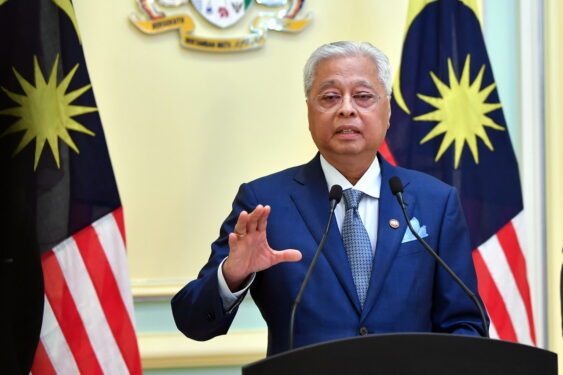 Aside from officiating the opening of the Battersea Power Station which is Malaysia's iconic project in London on Oct 12, the special visit includes a meeting with King Charles III at Buckingham Palace on the same day.
Whether the pendulum has swung to UMNO's favour or otherwise – and the King will miss first-hand all the action back home – Malaysians need not fret.
This is given that it will be a monumental task for the Election Commission (EC) to mobilise a snap poll on a short notice especially when doing so requires massive manpower and venues (schools and multi-purpose halls) which are also in high demand as evacuation centres to house flood victims.
Not only that fulfilling the selfish desires of UMNO's 'court cluster' warlords during the monsoon/flood season will cost the country a bomb (an additional RM1 bil from the typical RM500 mil), there is opposition aplenty from within UMNO itself not to mention within the Perikatan Nasional (PN) coalition on the idea of rushing the GE15.
Most recently, 12 PN ministers have even sent a petition to the Agong to object against any move to hold the GE15 this year.
Moreover, six states comprising three Pakatan Harapan (PH)-led states and three PAS-led states have made known their stand of not dissolving their state assemblies should the GE15 be held this year. The states are Selangor, Negeri Sembilan and Penang (PH-led) and Kedah, Kelantan and Terengganu (PAS-led).
In all probability, this could be UMNO's ultimate strategy – to have lesser voter turnout and even lesser polling stations given a high voter turnout will only be favourable to its nemesis PH and the latter's allies.
Whatever the case is, let's see if common sense shall prevail when the PM addresses the nation most probably after tonight's UMNO supreme council meeting. – Oct 10, 2022