DOUBLE-faced PAS president Tan Sri Abdul Hadi Awang appears very desperate now with the imminent state elections that he finds it necessary to appeal to the Chinese community to help the Islamist party "to save Malaysia".
By and large, PAS has often used the Chinese and the DAP as its punching bags. It is unlikely that the Chinese would give the Islamist party their votes.
Hadi is, in fact, admitting that the country which was led by Perikatan Nasional (PN) under two former premeirs Tan Sri Muhyiddin Yassin and Datuk Seri Ismail Sabri Yaakob had gone from bad to worse.
PAS was very much part of the coalition and despite having a Malay majority Cabinet, Ismail Sabri's government also collapsed.
Although the collapse of the former Pakatan Harapan (PH) administration was due to the Sheraton Move in 2020, the PN coalition also subsequently collapsed in November last year due to the outright rejection by Muhyiddin of the Yang di-Pertuan Agong's (YDPA) suggestion to form a unity government.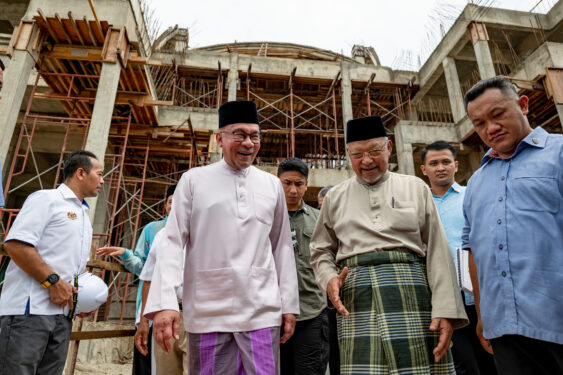 The unity government under the leadership of Malaysia's 10th Prime Minister Datuk Seri Anwar Ibrahim (PMX) is only into its seventh month, yet many long-standing issues have been solved.
While Anwar is trying to fix all the perennial problems, there is not even a single solution suggested by the Opposition in parliament where they can claim they are a better and more credible group of leaders.
In fact, when the going gets tough – as in the case when the parliament was ready to debate the 2021 Auditor-General's report – the Opposition lawmakers, including Hadi, with their flabby feet were nowhere to be seen in the august house. They could not stand to the scrutiny by the lawmakers.
Looming worries
Hadi's appeal to the Chinese in the midst of PAS deputy president Datuk Seri Tuan Ibrahim Tuan Man's statement that the unity government would collapse after the state elections shows that PAS has already run out of ideas of how to woo its voters.
Realising that the 'green wave' that it had boasted of was a mere temporary shift of UMNO's disgruntled supporters towards PN, PAS clerics are now desperate to look for new narratives to boost its electoral support for the coming state elections.
Young Kelantanese have expressed their frustrations against PAS in the state, an indication that PAS may not have the numbers to once again coast of the green wave.
Instead, PMX's recent visits to Kelantan, Terengganu and Kedah – the three states under PAS rule – along with his charisma show that for the first time someone took special interest in solving their water woes despite the fact that water supply comes under state governments.
Therefore, Hadi's appeal to the Chinese community may indicate that he suddenly realises that PAS will have a tough time even defending even the three PAS-controlled states in the upcoming state elections. – June 21, 2023