IN politics, no one knows when the wind changes its direction. Politics is the art of possible – no permanent friends or enemies – only permanent interests.
We are confident that the current cooperation agreement among political parties to establish the unity government will be long-lasting.
Pakatan Harapan (PH) and Barisan Nasional's (BN) collaboration in the national unity government could be tested in the six state elections middle of this year. But can the collaboration be strong enough to take on Perikatan Nasional (PN)?
PN is expected to make waves in the upcoming state elections, especially the Malay majority seats. Overlaps could also create an "uncomfortable" atmosphere that could affect PH-BN ties in the federal government.
At the same time, the absence of two of BN's founding members – MCA and MIC – in the unity cabinet is a clear sign of BN being disproportionately represented. What we see is a total of 11 UMNO leaders been appointed as ministers and deputy ministers in the unity government.
MCA, MIC still relevant
What is being overlooked is that both MCA and MIC have the grassroots support that can add up to the votes for the PH-BN pact in the coming state elections. Every vote counts.
In actual fact, MCA and MIC have given their fullest support to the unity government formed by Prime Minister (PM) Datuk Seri Anwar Ibrahim. Both parties have given their "wholehearted" support for the PM. These parties have stood by BN in good times and bad.
Describing himself as the PM for all Malaysians, surely Anwar's unity government needs firm support of race-based parties like MCA and MIC to win big especially in states like Selangor, Negeri Sembilan and Kedah. Politics of race in Malaysia will be around for a long time to come.
MCA and MIC were formed to protect the right of the Chinese and Indians in the mainstream development. Along with UMNO both were the founding members of BN and the Alliance party coalition which was registered as a political organisation on Oct 30, 1957.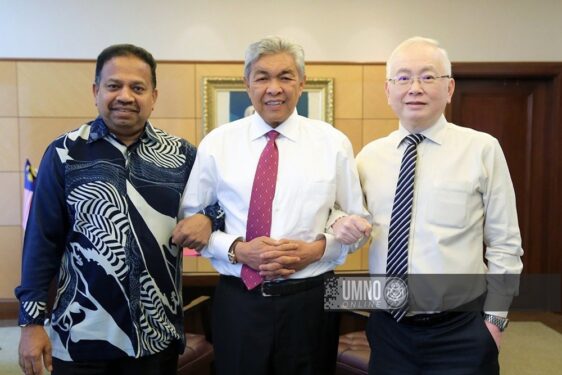 One cannot deny that under the leadership of various presidents, MCA and MIC continue to strive for improvement of the Chinese and Indian communities. Any fair-minded person would appreciate the role and sacrifice of both parties in the areas of community development, vernacular education, jobs and other bread-and-butter issues.
MIC had ensured that the government has provided Indians with housing and Tamil schools while federal allocation is granted to temples and other community facilities.
For argument's sake, let' say that that this is the Keluarga Malaysia's spirit within the BN coalition that "Big Brother UMNO" suggests to PM Anwar that MCA and MIC representatives be given Cabinet positions.
As many of us are aware, at times when UMNO members themselves hopped like frogs to other parties, MCA and MIC have remained loyal to BN.
Unity government needs MCA. MIC
MCA and MIC heeded the Yang di-Pertuan Agong's decree and support the unity government that eventually paves the way for political stability and a conducive environment for economic recovery. This is the time to show appreciation for MCA and MIC's sacrifices.
Recall that on Dec 16 last year, five major political parties, namely PH, BN, Gabungan Parti Sarawak (GPS), Gabungan Rakyat Sabah (GRS) and Parti Warisan (Warisan) inked a memorandum of understanding (MoU) in Putrajaya to form a unity government.
The MoU was signed by the respective secretaries-general, namely Datuk Seri Saifuddin Nasution Ismail (PH), Datuk Seri Zambry Abdul Kadir (BN), Datuk Masidi Manjun (GRS), Datuk Seri Alexander Nanta Linggi (GPS) and Datuk Loretto Padua, Jr (Warisan) with the ceremony witnessed by presidents of the said political parties.
On top of that, the PM must strike a balance, not just in terms of numbers but also in the allocation of portfolios to further lock in the support of the Chinese and Indians. His unity cabinet must draw adequate representation from BN coalition parties MCA and MIC.
Without MCA and MIC in the Cabinet, it's not a unity government as Anwar Ibrahim was well liked by the Chinese and Indian members of the MCA and MIC who voted him to be the 10th Prime Minister.
The writer has served the government of Malaysia at various ministries, agencies for almost 30 years. He has served minister and deputy ministers as private secretary.
The views expressed are solely of the author and do not necessarily reflect those of Focus Malaysia.