BEFORE declaring himself "I ain't a coward; bring it on… yourself, your wife or your daughter", apparently directed at his long-time nemesis and Opposition leader Datuk Seri Anwar Ibrahim to contest in his Gombak constituency, it may be worthwhile for Datuk Seri Mohamed Azmin Ali to look at himself one more time in the mirror.
Speaking at the Selangor state Parti Pribumi Bersatu Malaysia (PPBM) divisional conference and launch of the party's election machinery yesterday (Oct 2), Azmin played down the labelling of him as a traitor and instead trained his guns back at Anwar, whom he described as "the father of all traitors" for orchestrating the "Kajang Move" which sparked the 2014 political impasse in Selangor.
Putting the issue of whoever is holier-than-thou between both arch-rivals aside, Azmin must firstly remember that his resounding victory in the previous general election (GE14) was won on the Pakatan Harapan ticket.
This came at a time when hatred for Barisan Nasional (BN) knew no boundaries, especially with the advent of the RM50 bil "mother of all scandals" 1Malaysia Development Bhd (1MDB) fiasco rearing its ugly head.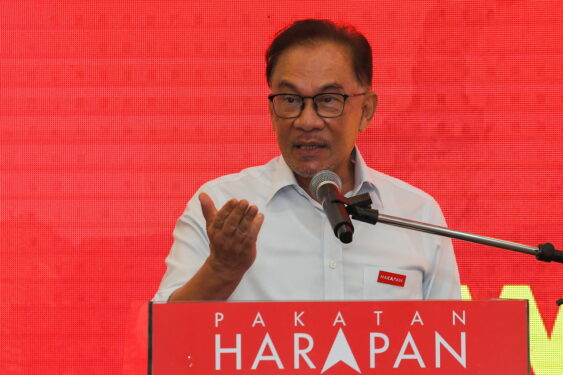 Secondly, the PPBM supreme council member and international trade and industry minister must weigh in on his treacherous role as the mastermind of the infamous Langkah Sheraton (Sheraton Move) which ultimately toppled the Pakatan administration two years into its historical GE14 victory.
In fact, the former Selangor menteri besar (2013-2018) and ex-PKR deputy president must deem himself fortunate to have won his appeal on April 13 to nullify a lawsuit filed by 10 Gombak voters over alleged breach of fiduciary duty.
Earlier this year, the High Court rejected Azmin's application to strike out the lawsuit by the voters against him.
The voters had claimed that Azmin made a representation that he was standing in GE14 to oust BN and to "free Malaysia of corrupt officials".
They added that during the election campaign, Azmin told his constituents to "vote for PKR to ensure a competent and stable Government".
However, they noted that Azmin caused the collapse of the Pakatan Government in 2020 and joined the Perikatan Nasional (PN) administration, which included BN and persons Azmin himself had acknowledged were "credibly accused of corrupt practices".
As such, his earlier representations were "merely to deceive the voters to support and vote for him so (that) he can be an MP," the voters claimed.
Recall that during the GE14, Azmin, who polled 75,113 votes (59.2%), won by a majority of 48,721 votes against his rivals from UMNO, Abdul Rahim Pandak Kamarudin (26,392 votes/18.7%) and PAS' Khairil Nizam Khirudin (17,537 votes/12.4%).
In all fairness, before he looks down on Anwar as "already irrelevant in the political arena", Azmin should beware that the Port Dickson MP is no pushover, despite his numerous futile attempts to become prime minister. – Oct 3, 2022
Main photo credit: Malay Mail