NETIZENS reckon that newly-elected UMNO Youth chief Dr Muhamad Akmal Saleh has made a misplaced statement by calling on DAP to apologise for the latter's past misdeeds to UMNO.
Chef and businesswoman @lady_bugg11 who started a thread entitled "Reminder to UMNO Youth" on Twitter called on the UMNO wing to stop "shooting yourself in the foot" and "enough scapegoating DAP".
"All this while, it wasn't DAP that stole UMNO voters either. It is not customary for UMNO to compete in seats contested by DAP," she tweeted.
"UMNO's enemies are Bersatu and PAS. These are the ones who stole UMNO's voters. They even stole UMNO leaders. More than that, Bersatu intends to take over UMNO's position as the sole party representing the Malays by eliminating UMNO."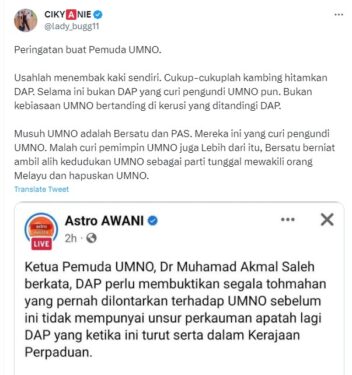 In a fiery policy speech delivered before hundreds of delegates during the 2023 UMNO Wanita, Youth and Puteri assembly yesterday (June 8), Dr Akmal said the Pakatan Harapan (PH) component member should prove its sincerity about working with UMNO by first admitting that it had made irresponsible allegations against it.
"If it can fly all the way to Sarawak, apologise to GPS (Gabungan Parti Sarawak), why can't it apologise to us for all the accusations made against us in the past," the medical practitioner pointed out. "We want them to apologise … that would at least soothe the hearts of UMNO members (especially the grassroots)."
Responding to the Twitter thread by @lady_bugg11, netizen @Eastcantdark observed that DAP which has been slandered since the May 13 black incident has never asked UMNO to apologise for the loss of lives stemming from "slanders that were intended as political reprimands".
"It looks like Merlimau people (Dr Muhamad Akmal is a state assemblyman of Merlimau in Melaka) have a chronic tendency to claim credit," chided @Eastcantdark.
User @sobri_sandom described the statement by Dr Muhamad Akmal as "from boys who are not good at politics".
"The one who needs to apologise is Perikatan Nasional (PN) who stole UMNO supporters in the last GE (general election). DAP does not steal UMNO supporters," the netizen rebutted. "You should make a big spin at PN so people can see the real UMNO superman. This is so outrageous."
Meanwhile, netizen @shah_arman56229 felt that the current UMNO is merely a tool to suit the interests of its supreme council members as opposed to looking after the interests of the party's grassroots.
"UMNO must be buried at this upcoming state polls in order to give birth to a new UMNO that will be spearheaded by a new generation of UMNO leaders," he suggested.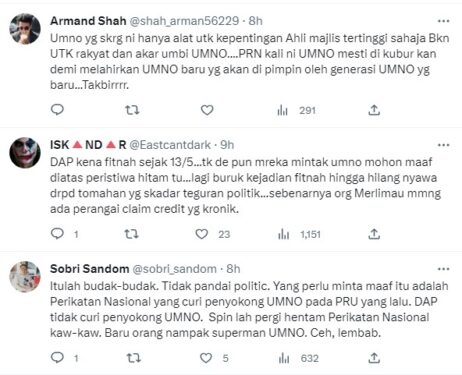 Twitter user @eilzmalaise claimed that it is UMNO who should apologise to Malaysians and especially PKR for bruising Prime Minister (PM) Datuk Seri Anwar Ibrahim while netizen @MazlanYahya4 noted that UMNO Youth must first understand who their main enemy is.
"If you still do not understand, UMNO Youth will only destroy themselves and will be rejected by the people," the netizen reminded.
Hj Zainal Rahman who goes by the username @ARSolutionMY urged UMNO to be grateful for under the unity government, the party's leadership has been accepted into the PM's team (its president Datuk Seri Ahmad Zahid Hamidi has been made Deputy PM) as well as given the portfolios of defence and higher education ministership.
"Moreover, UMNO leaders are also appointed as chairman of MARA FELDA FELCRA and RISDA. Now it is insisting for a change of ministers and wanting DAP to apologise. What a headache." – June 9, 2023