WITH UMNO deeming itself already 'one leg' into realising its early 15th General Election (GE15) dream – of which the consent by the Supreme Head of the Federation can be known over the next 72 hours or so – it is little wonder that the party's GE15 mastermind has taken a jab at the Pakatan Harapan's (PH) 'once sacred' 10 promises in 100 days manifesto pledge.
"Surely everyone still remembers this manifesto document. This document is extremely devious, manipulative and dangerous. It has once ruined the human rationality," claimed party president and Barisan Nasional (BN) chairman Datuk Seri Dr Ahmad Zahid Hamidi.
"Those who had once believed in it were basked in unbridled fantasy and hallucination which pervaded the intellect and logic of reasoning."
He went on to belittle the "non-scriptural document" which appeared around 2018 as "provoking human lust while destroying human honesty and reality".
"Humans who embraced such faith were promised 'heaven on earth' and unrealistic wealth, resulting in many getting fascinated and eventually wretched," philosophised the Bagan Datuk MP.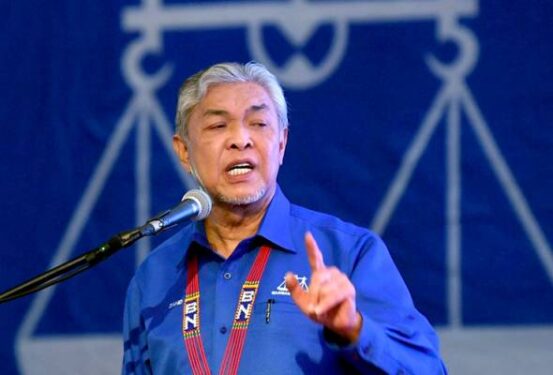 "Yet history has proven that this document turns out to be riddled with falsehood and misguided lies laced with sweet promises. The document can also be likened to the 'moon and stars' which look attractive and easily reachable, but the reality is that they are located 384,400 kilometres away from earth."
Ironically, Zahid said nobody dared to admit creating "this fraudulent document – the closest hint is the individual who claimed to be the author".
"What is certain is that there was once a group that once made use of this non-scriptural document as a tool to realise their self-interests," he recalled. "After the benefits have been reaped, they try to make people forget that the document ever existed with various misleading narratives."
After almost five years have lapsed, Zahid said there are indications that similar documents may resurface to deceive again.
"Thus, Malaysians should be careful this time. Don't get too easily hallucinated by that extremely cunning and destructive manipulation," he warned. "Don't fall prey again to offers of toll abolishment and free PTPTN. God willing, we will know when they are making a comeback" – Oct 4, 2022
Main photo credit: Reuters