UMNO president Datuk Seri Ahmad Zahid Hamidi – whose apparent rivalry with Datuk Seri Ismail Sabri Yaakob over Parliament being dissolved is common knowledge – said he has no issues with the prime minister.
However, this is only so long as the 15th General Elections (GE15) are held this year, a call that Zahid has consistently been making for some time now.
Speaking at the launch of the Barisan Nasional (BN) Youth machinery last night (Sept 17), Zahid noted that the organisers had put him next to Ismail.
"They see my body language and chemistry. Thousands of eyes are on us now," Malaysiakini reported him as saying.
"We have no personal issue with the prime minister as long as the general election is held this year," he said.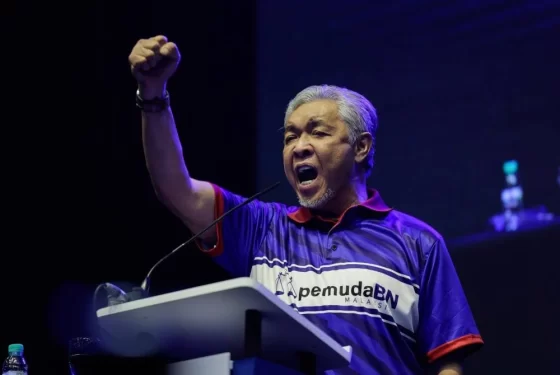 Zahid added that the "signal" was "loud and clear" for GE15 to be held soon and there was no need to discuss the matter further.
"The top five (UMNO leaders) have been given the mandate," he noted. "We have discussed it many times, but the date has not been decided."
A meeting with UMNO's top five leaders – to discuss the date for GE15 – that was set for yesterday has been postponed to Sept 30.
The top five leaders are Zahid, UMNO deputy president Datuk Seri Mohamad Hasan and the three party vice-presidents – Datuk Seri Mohamed Khaled Nordin, Datuk Seri Mahdzir Khalid and Ismail.
Zahid has been harping on GE15 being held soon as any further delays will give "ammunition" to the enemy to continue "attacking them", leading to them losing in the polls.
"That is why no one from the opposition has asked for Parliament to be dissolved – even though in the past (they would) belittle the current Government (by saying) that it doesn't have the rakyat's mandate, it's a backdoor Government and so on," he claimed in a Facebook post last month.
Ismail, on the other hand, said GE15 is "not too far away".
"Believe me, it will be soon. What's most important is that once Parliament is dissolved and the general election takes place, we must win," he was reported as saying last night.
Meanwhile, Zahid said BN is ready to wade through the floods to campaign for GE15 if the polls are held during the monsoon season, which is expected to start in November.
He said this on the back of criticism from Pakatan Harapan over holding the national polls when floods and heavy rain are expected, and last December's disastrous floods. – Sept 18, 2022    
Main photo credit: The Vibes