USING the Sedition Act to protect the Malaysian royal institution is never a good idea as such action will not endear the monarchs to the people in the long run.
Instead, the government must show all the desirable qualities of its constitutional monarchs by showcasing their good deeds, virtues and their selfless contributions to the community and country, according to former de facto law minister Datuk Zaid Ibrahim.
"The Istana – like all monarchs – want to be respected and even loved. Not all have the fortune of being revered like (late Thai king) Bhumibol Adulyadej," tweeted the Kelantan-born founder of Zaid Ibrahim & Co, the largest private law firm in Malaysia (which he no longer owns).
"But ring-fencing them from criticisms of the rakyat is not the right way. Even Thailand's leste majeste where one can be imprisoned for 15 years will go away soon."
Added the UMNO member who tends to echo pro-Perikatan Nasional (PN) sentiments of late: "The government has to show how the rulers helped them to achieve the goals of a transparent government and their role in making good governance a reality. This approach works better for Istana and the rakyat."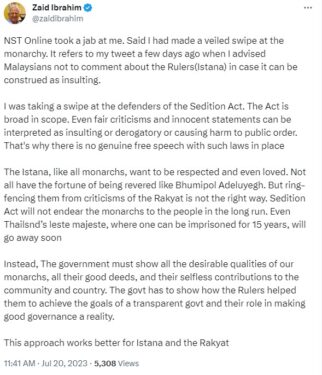 Zaid whose political comeback in recent times can be traced to the short-lived appointment of his law firm Zaid Ibrahim Suflan TH Liew & Partners to handle the Federal Court's appeal of now incarcerated former premier Datuk Seri Najib Razak, further denied that he has attempted "a veiled swipe at the monarchy" as claimed by NST Online.
This came about as Zaid had in a tweet on Monday (July 17) advised Malaysians not to make comment that may be construed as insulting Malay rulers even if unintentional.
"I was taking a swipe at the defenders of the Sedition Act. The act is broad in scope. Even fair criticisms and innocent statements can be interpreted as insulting or derogatory or causing harm to public order. That's why there is no genuine free speech with such laws in place," he justified.
Below is Zaid's said tweet in full:
"Do not describe a MB (Menteri Besar) as a clown for that will be insulting the ruler for appointing a clown. Do not say Malay Rulers are wealthy as that could imply that their wealth are improperly obtained. Do not say Malay Rulers are involved in timber or durian business or internet business. That would be demeaning. You can only praise them. Better still say nothing at all." – July 20, 2023