FORMER Wanita PKR chief Datuk Zuraida Kamaruddin has taken a pot shot at Prime Minister Datuk Seri Anwar Ibrahim for being unable or refuse to accept criticism levelled at DAP by two-time premier Tun Dr Mahathir Mohamad that leaders of the party are hiding their "Sinocentrism" values behind the Malaysian Malaysia slogan.
For context, the 10th Malaysian PM has hit out at his so-called mentor during a question and answer session (Q&A) at the "International Malaysia Law Conference 2023" by describing the latter's argument that promoting a multi-racial Malaysia is against the Federal Constitution as his "last desperate attempt" to be seen relevant.
In her capacity as the Penggerak Komuniti Negara chairman, Zuraida claimed that Anwar has distorted a comment directed at DAP by Dr Mahathir and that he (Anwar) failed to grasp the essence of the message that the country's longest serving premier of 22 years and 22 months was trying to convey.
"Firstly, the criticism made by Tun Mahathir was especially directed at DAP leaders who often urged him to do inappropriate things after GE14 (the 14th General Election in 2018) when he was the seventh PM," Zuraida who left PKR to join Bersatu in the aftermath of the February 2020 Sheraton Move conspiracy highlighted in a media statement.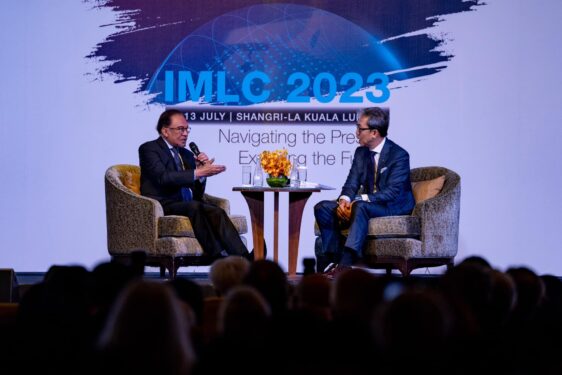 "Tun Mahathir's statement was not aimed at the non-Malay/Bumiputera community but only at DAP's increasingly extreme attitude, especially when Pakatan Harapan (PH) has gained the power to rule the country post-GE14."
Secondly, Zuraida noted that while nobody including Dr Mahathir can deny that Malaysia is a multi-racial country, the latter is wary "of the attitude of a large number of DAP leaders who fail to comprehend that the special rights of the Malays/Muslims cannot be violated because they have been preserved in the federal constitution".
"Thirdly, the interests of the Malays/Bumiputera should be prioritised because we are the majority group and if no focus is given from the point of view of socio-economic development and political representation, this could cause instability that will impede the progress of development in the entire country," contended Zuraida.
"While the interests of the Malays/Bumiputera should be given focus, this is not to the extent that it negates the rights of other races who also need to be empowered to ensure comprehensive equitable development."
Added the Parti Bangsa Malaysia former president-designate who was sacked from the party in late December last year: "I sincerely hope that Anwar will do self-reflection and not because he overzealously wants to protect DAP's heart, he is willing to mortgage the dignity of his own nation for political gain." – July 11, 2023