FORMER PKR Wanita chief Datuk Zuraida Kamaruddin has hailed the decision by MUDA president Syed Saddiq Syed Abdul Rahman to make the party a "third force opposition" as "a very appropriate action".
By examining recent media reports on the reasons why MUDA decided to leave Pakatan Harapan (PH), Zuraida reckoned that the party are backed by compelling reasons.
"The recent release of criminal charges against several political figures related to PH certainly invites disgust among all Malaysians," she pointed out in a media statement in the capacity of the Muafakat Nasional deputy president.
"Of course, this move has a huge negative impact on the government led by Datuk Seri Anwar Ibrahim because the PH-BN (Barisan Nasional) alliance that is currently helming the country has lost two-thirds of its majority in the Parliament."
According to Zuraida who herself deserted PH at the height of the Sheraton Move conspiracy which toppled the then PH government in February 2020, what MUDA has done at this point deserves praises because "they stopped supporting the PH-BN government on the basis of principle rather than acting for the interests of individuals or a group only".
"The cry of reformasi that once upon a time became a sacred call to raise the spirit of the people to resist tyranny seems to be just empty rhetoric," opined the former Bersatu supreme council who later joined Parti Bangsa Malaysia (PBM) as a president-designate hopeful prior to her sacking by PBM in December last year.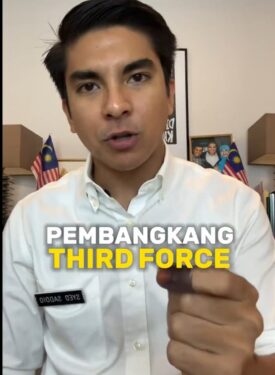 "They can just sit comfortably in the ranks of government leaders by remaining silent but have chosen to stand up and fight to fight for the future of all Malaysians. Well done and congratulations to YB Syed Saddiq and MUDA for their courage in defending principles and integrity," praised the former plantation industries and commodities minister.
Meanwhile, UMNO Supreme Council member Datuk Dr Puad Zarkashi has hit out at Syed Saddiq for of using withdrawal of support for the ruling unity coalition as a ploy for him to claim a prominent position in the PH-BN government.
Urging Prime Minister Datuk Seri Anwar Ibrahim not to give in to the action which he described as "dishonourable", Puad said it was disappointing to see the Muar MP had used the government's borderline two-thirds parliamentary majority to his advantage.
"Syed Saddiq is still looking for a way for him to be 'treated' and given a position. Let the peope punish him," Puad was quoted as saying to Free Malaysia Today (FMT).
MUDA currently holds one seat in the 222-member Dewan Rakyat through the former youth and sports minister. With the party's withdrawal of support, the unity government coalition of PH, BN and East Malaysian parties commands a total of 147 seats, one seat short of a two-thirds majority. – Sept 11, 2023