LOCAL coffee chain ZUS Coffee, under fire for seemingly mocking a customer who complained about being short-changed by their staff, has apologised over the matter.
The controversy started on Wednesday (Sept 28) after netizen Fdaus Ahmad took to Facebook to air his grievances following a less than satisfactory exchange with a ZUS Coffee cashier who did not have exact change – five sen to be precise.
The post has since gone viral with over seven thousand shares and a similar number of comments.
In the post, Fdaus recalled how he had purchased an iced caramel macchiato drink earlier that day at ZUS Coffee's Tanjung Malim branch in Perak – sold at RM11.75 – with RM12.
The cashier, however, said he did not have a five-sen coin and "intentionally" gave Fdaus 20 sen change instead of 25 sen.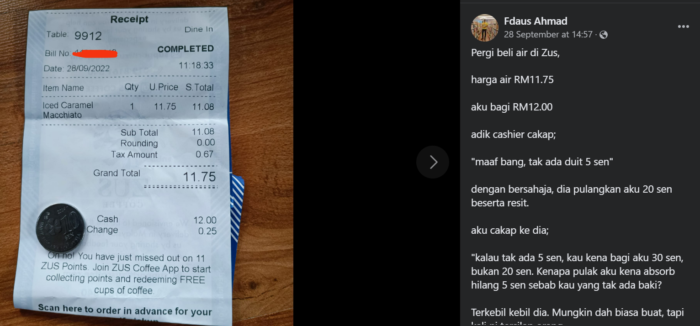 In response, Fdaus claimed he told the cashier: "If you don't have five sen, you have to give me 30 sen, not 20 sen. Why should I absorb the five-sen loss when you don't have change?"
At this point, Fdaus claimed the cashier was shocked – "perhaps because he was used to doing this" – but said this time he "messed with the wrong guy".
Fdaus also clarified that the issue was not about the five sen but about the "gentleman's principle" between buyer and seller.
"Imagine if the price (of the drink) was RM11.75 but I paid only RM11.70 and left while saying, 'Sorry dik, I don't have the balance five sen'. How would you feel?" he asked.
Fdaus added that the cashier eventually gave him an additional 10 sen and he went on his way.
"For all the five sen we couldn't return"
Responding to Fdaus's post, ZUS Coffee announced on Friday (Sept 30) that they were giving 75 sen off "for all the five sen we couldn't return" and any "inconveniences caused" – a move which many netizens said was poking fun at the situation and belittling their customer:


ZUS Coffee eventually responded on social media once more in the wee hours of Saturday morning (Oct 1) and thanked the public for their feedback.
"We are taking them into serious consideration (and) we do feel genuinely sorry about the matter from the start but it was an attempt at injecting some light humour into the situation.
"In hindsight, it's of poor taste and we apologise for that as well. Running out of change does happen and we are doing our best to minimise the error," they said.
They added that they were grateful to their junior barista for responding immediately and handling the situation well – even posting a 12-second CCTV footage of the exchange, which earned the ire of netizens once more: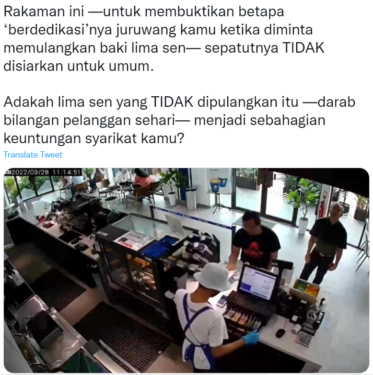 ZUS Coffee eventually released another statement later in the day to address the matter, saying an official investigation was done on their retail operations end and social media.
As such, they do not consider the matter as a case of shortchanging but one of "highlighting personal opinions", noting that their team member gave the additional 10 sen change almost immediately after being requested by the customer.
Even so, ZUS Coffee CEO Venon Tian said moving forward, they would provide exact change to customers or at the nearest denomination, remove all five-sen denominations in their next menu refreshment cycle and continue encouraging cashless payments.
"We apologise for any inconveniences this may have caused and are committed to continue serving better," he said, adding: "There's no ZUS without U."
This did little to quell public anger, however, with many netizens saying they would be boycotting the business all the same over how they handled the case. – Oct 2, 2022