MALAYSIA clinched another gold medal at the mid-point of the 19th Asian Games in Hangzhou, China after the women's squash team came from one match down to beat defending champion Hong Kong 2-1 at the HOC Squash Centre on Saturday (Sept 30).
Kedah-born Aifa Azman, 21, was the toast of the team when she delivered the winning point by defeating Chan Sin Yuk 11-5, 11-8, 11-13, 11-8 in a fast-paced match.
Earlier, Rachel Arnold missed a golden opportunity to put Malaysia in the driving seat after losing the first match in a marathon thriller 11-7, 7-11, 11-8, 8-11, 6-11 to Tong Tsz Wing. But S. Sivasangari drew level when she breezed past Ho Tze Lok 11-5, 11-8, 11-6.
Hong Kong was the defending champion from the last Asiad in Indonesia five years ago. Back then, the Malaysian women's team only managed to win a bronze after they lost 0-2 to India in the semis in Indonesia at that time.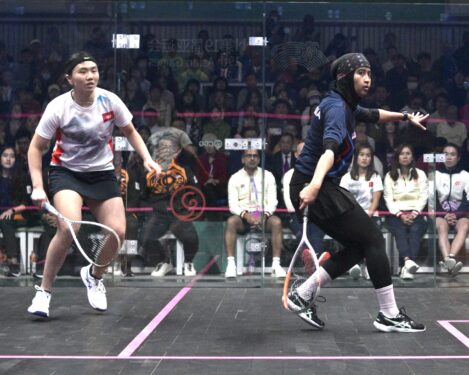 Nur Shazrin Abdul Latif claimed the first gold for Malaysia in sailing while Qabil Ambak added another with a first-ever win in equestrian.
Malaysia currently ranks 12th in the medal table with three gold, three silver and 12 bronze. In the 18th Asian Games hosted by Indonesia from Aug 18 to Sept 2, 2018, the Malaysiam contingent finished 14th overall with a medal tally of seven gold, 13 silver and 16 bronze.
The 15-day Hangzhou 2022 which will be staged from Sept 23 to Oct 8 is touted as the second largest multi-sport event after the Olympics.
Elsewhere, national track queen Shereen Samson Vallabouy ended Malaysia's 17-year medal drought in Asian Games athletics when she gallantly clinched bronze in the 400m final yesterday (Sept 30). The last to win it was hurdler Noraseela Khalid who also won the bronze in 2006.
"The 25-year-old deserves credit for running a lung-busting final 200m to cross the finish line third in 52.58 seconds – a little slower than her national mark of 51.80s – at the Hangzhou Olympic Stadium in China," reported Bernama.
Bahrain's Adekoya Oluwakemi Mujidat clocked 50.66s to take gold while compatriot Salwa Eid Naser (50.92s) won silver.
Joining the US-based Shereen to win a medal in the track and field event is national sprinter Mohd Azeem Fahmi who also won a bronze medal for the 100m.
The 19-year-old recorded a time of 10.11s to finish third in the 100m final which was won by China's Xie Zhenye with a time of 9.97s with Thailand's Puripol Boonson clinching the silver by clocking 10.02s.
Azeem's bronze is Malaysia's first medal in the 100m event at the Asian Games in 41 years. Rabuan Pit won gold at the 1982 Asian Games in New Delhi with a time of 10.68s. – Oct 1, 2023
Pics credit: Olympic Malaysia