RHB Research has found itself 'spooked' by its overly bullish projection of Texchem Resources Bhd as the latter's share price nosedived as much as 18.4% or 23 sen to a 52-week low of RM1.02 today, contrary to the former having reiterated its "buy" rating with a target price of RM2.77.
To be fair to the research house, its RM2.77 price tag on the Main Market-listed conglomerate which marked a 23% reduction from RM3.60 previously was made on grounds that Texchem's 1Q FY2023 net profit missed expectations mainly on weak market demand and cost pressures.
"While we are cognisant of the weak results and margins compression, the share price also took a heavy beating and reflected the near-term weakness," analysts Lee Meng Horng and Tai Yu Jie pointed out in a results review. "Valuation is undemanding at 5.6 times FY2024F P/E (price-to-earnings ratio), considering its well-established diverse businesses."
Whatever the case is, Texchem which slumped to RM1.03 at the time of writing with 3.8 million shares traded (market capitalisation at RM130 mil) was traded as high as RM3.99 just a year ago.
For context, Texchem found itself in the red after having posted a net loss of RM242,000 against a net profit of RM13.1 mil for its 1Q FY2023 ended March 31, 2023. Revenue for the quarter dipped 12.7% to RM268.5 mil from RM307.5 mil a year prior as the industrial and polymer engineering divisions were impacted by softer demand.
All-in-all, the group has five core business divisions – industrial, polymer engineering, food, restaurant and venture business.
Interestingly, RHB Research justified its 'bullishness' by looking beyond Texchem's near-term earnings weakness.
"We think Texchem is now in deep value following its steep sell-down, considering the implied valuation of Sushi King at RM365 mil (based on previous transactions) and healthy cash flow generation from its established diversified businesses," projected the research house.
"Following the right-sizing and business rationalisation initiatives over the past years, we are optimistic on its earnings recovery, underpinned by Sushi King's strong brand equity and outlets expansion, the food unit's growth via new market penetration and product range expansion, and steady volumes recovery and execution of new contract/business wins in the polymer engineering and industrial divisions."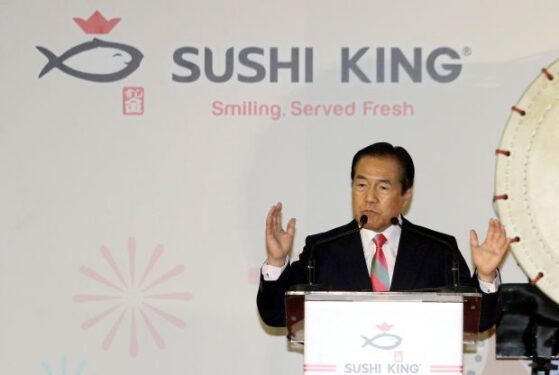 Ironically, Texchem's executive chairman Tan Sri Fumihiko Konishi had anticipated 'a sell-down brewing' judging by his comment on Texchem's financial performance last Friday (May 19).
"We are cognisant of the soft 1Q FY2023 performance as the current business operating landscape remains highly challenging due to market uncertainties. Among our core business unit, our polymer engineering division is facing sluggish global market demand, specifically in the hard disk drive and semiconductor sectors," he admitted.
"However, we are committed in our continuous efforts in our new business developments. Meanwhile, our restaurant division is affected by rising input cost which we are proactively managing. Overall, we are confident of the long-term growth prospects due to the diversified business and solid fundamentals built across the core business divisions."
One wonders if the business founder himself could be frank with his projection, why the stock analysts at RHB Research didn't take a cue from the business owner's instinct but retain their bullishness on Texchem's prospects even if their market rating and target price is valid for a one-year period? – May 22, 2023