MORE and more Malaysians feel the pinch of the pandemic and inflation. They complain their monthly salaries are insufficient to purchase daily necessities and pay bills.
Although the inflation rate has eased from 4% in November 2022 to 3.8% in December 2022, the prices of food and beverages are higher than in pre-pandemic days.
Rice, bread and other cereals, meats and milk, cheese and eggs are among the three food and beverage sub-categories that recorded a more than 7% increase in inflation in the final month of last year.
The ongoing Russia-Ukraine war has put Malaysia in a more vulnerable position. As lesser land for agricultural production since transforming Malaysia into an industrialised country in the 1970s, Malaysia has been overly reliant on imported food items.
Notwithstanding, industrialisation speeds up the development of the major cities in Malaysia like Kuala Lumpur, Georgetown, Johor Bahru, Kota Kinabalu and Kuching.
Yet, Malaysia remains stuck in the low-wage, low-cost economic model, with a high influx of low-skilled foreign labours.
In a recent interview, Deputy Human Resources Minister Mustapha Sakmud mentioned his salary was only RM1,800 per month despite engineering having already emerged as a highly-skilled profession in 1993.
When his son graduated from engineering in 2019, the starting salary increased merely by 28% (i.e., RM2,300) compared to two decades ago.
My friend working as an ophthalmologist in a public hospital mentioned that he only earns RM14 per hour when working overtime or on call for 24 hours during weekdays. It is even worse during weekends – only RM9 per hour.
How could fresh graduates survive with the increasing cost of living? If the employers do not provide salary increments during the past two years of the pandemic, how could the employees manage their expenses with shrinking disposable income?
Many contract medical officers (MOs) are leaving Malaysia for good due to low wages, improper public hospital and clinic facilities and bleak career prospects.
Young Malaysians who pursue degrees overseas also made up their mind not to return to their home country for professional opportunities after graduation as they could earn at least two to three times more than the salary they receive in Malaysia.
As many skilled and talented Malaysians opt for greener pastures, Malaysia faces a serious brain drain issue. The Human Resources Ministry (MOHR) indicated that Singapore has almost one million Malaysian workers, followed by Australia, the United States, the United Kingdom and Canada.
Earlier, the Bank Negara Malaysia (BNM) stated that the living wage for an adult based in Kuala Lumpur was RM2,700 as of 2018. It will not be surprising if the current desired living wage raises by 25% (i.e., RM3,375).
While the current Prime Minister Datuk Seri Anwar Ibrahim repeatedly emphasised his utmost priority to resolve the cost of living crisis the moment he was sworn in as Prime Minister at the end of November last year, the unity government administration also has to put great emphasis on living wage instead of a minimum wage – the benchmark to match the actual cost of living among Malaysians.
BNM defines the living wage under its report "The Living Wage: Beyond Making Ends Meet" (2018) as the wage level that could afford the minimum acceptable living standard (as attached in Table 1: Different Concepts of Living Standard).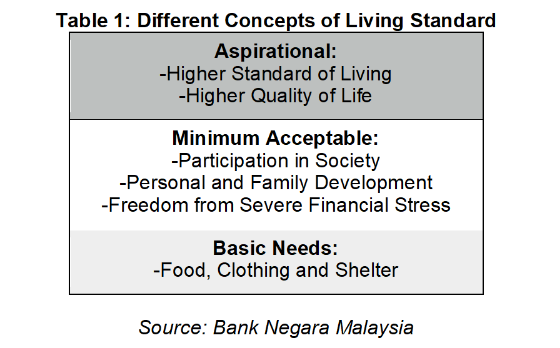 As more middle-income earners fell into the lower-income category during the pandemic, there is an increasing concern that more Malaysians may only afford to cover basic needs (as per Table 1) for their living.
Some Malaysians started to experience difficulties in coping with the rising cost of inflation and recently pleaded with the unity government to allow another round of Employees Provident Fund (EPF) withdrawal.
Economy Minister Rafizi Ramli recently acknowledged the issue of insufficient high-skilled, high-pay job opportunities as a good sign.
However, to ensure that high-skilled jobs are associated with good remuneration packages, he has to pay attention to the existing labour laws and revise them accordingly.
In particular, the Employment Act 1955 remains associated with a time-based wage system instead of a productivity-linked one.
Adopting a productivity-linked wage system would raise the country's overall salary level, boost the employees' morale and be more reflective of the current standard of living.
When Malaysians could secure high-skilled, high-income employment within their country, they would be less likely to seek better job opportunities elsewhere. – Feb 22, 2023
Amanda Yeo is Senior Fellow at Pacific Research Centre. Over the past five years, she gained extensive working experience in the Sabah state government and civic society. She also represented Party Warisan as a parliamentary candidate for Kota Kinabalu during GE15.
The views expressed are solely of the author and do not necessarily reflect those of Focus Malaysia.
Main pic credit: RinggitPlus