AN ensuing online debate among subscribers of Malaysiakini over Prime Minister (PM) Datuk Seri Anwar Ibrahim hauling Pendang MP Awang Hashim (PAS-Perikatan Nasional) to court reveals that 'almost all except one' netizen deems such action as 'justifiable'.
This comes about after Malaysia's first independent online news portal headlined "Anwar is on a 'Destruction of Image' Binge" in its YOURSAY section which is only open for its subscribers to post their opinions on latest developments in the country.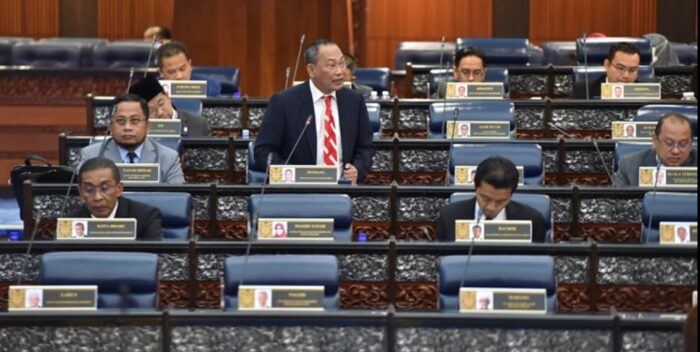 "Your response is truly regrettable. A mature political leader of your standing would have chosen to ignore Awang Hashim or reply to him with just a silent smile. Instead, you seem to have gone berserk in the manner you managed this, yes, triviality," commented subscriber Vijay 47.
"PMs and presidents get savaged and praised as circumstances dictate and you should have taken both in stride. Ironically, your court action authenticates Awang Hashim's opinion!"
This prompted subscriber "My brother did it" to come into the Pakatan Harapan (PH) chairman's defence by enlightening Vijay 47 that Anwar is correct to sue in a personal capacity as opposed to leverage the police or the Malaysian Communications and Multimedia Commission (MCMC) "to bully those who criticise him".
"During PM8 (Tan Sri Muhyiddin Yassin), state apparatus was used to arrest someone who defile the PM8 caricature if I am not mistaken," argued the netizen. "During PM9 (Datuk Seri Ismail Sabri Yaakob), state apparatus was used to arrest someone who posted in a social media about his aide's expensive taste, not even about PM9."
Added "My brother did it": "You notice that Anwar is not suing any media member, just loudmouth and loose mouth celupar (garrulous) politician."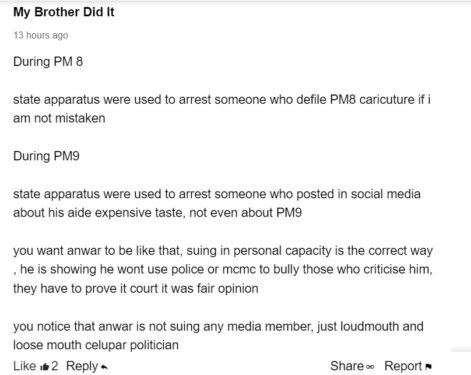 Civil right
For backgrounder, Anwar's counsel Sankara Nair had filed the defamation suit against Awang at the Kuala Lumpur High Court on Friday (March 3).
The civil action is over two allegations, namely (i) the accusation that the Tambun MP is more vindictive than former PM Dr Mahathir Mohamad; and (ii) the claim over the legitimacy of Anwar's appointment as the 10th PM.
The PKR president claimed that despite having issued letters of demand on Feb 21, 24, and 28 for the PAS leader to retract, apologise, and pay damages among others, the latter allegedly replied via letters on Feb 27 and March 2 to refute the former's demands.
Concurring with "My brother did it", Fredtan reckoned that Anwar is doing what we had been advocating all this while, which is to use the civil court to sue for personal defamation "and not use the police agencies to detain them, hence treating the issue as criminal".
"It happened all the time in the past – remember the arrest of a lady releasing a yellow balloon at ex-PM (Datuk Seri) Najib (Razak)? I support Anwar's method of using his own citizen's right – not as PM – to sue the pants off the people who lied,"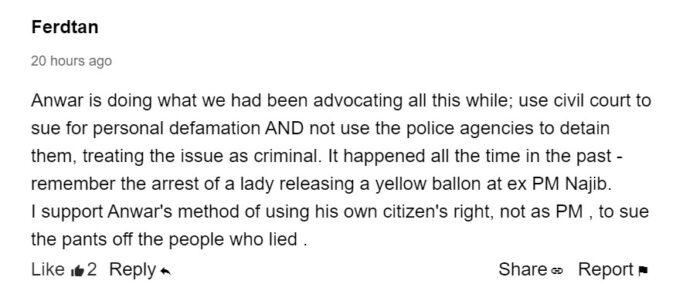 Subscriber Travis Bickle also agreed that Anwar is well within his rights to sue for slander.
"You (Vijay 47) asked 'So, what great crime against you did he commit?' There is a legal concept called Slander. It is a form of defamation. So that answers your question," justified the netizen.
"Actually, Anwar is well within his rights to sue for slander. However, do I think Anwar should sue for slander even if he could? No. But I understand why he would do so. He is trying to draw a line in the sand for these PAS fellas."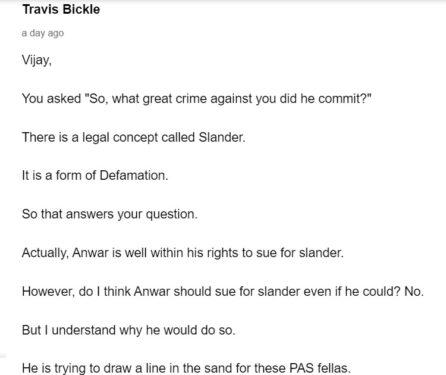 A more ruthless GreenGuppy5137 feels that "those extremists from certain parties must be harassed and kept busy before they do more harm".
"Can't you see they are doing all this to galvanise support and making the people more racist?" he asked.
"For me it is simply, sue all of them to bankruptcy. They have caused enough divisions and fissures in this country. They are extremist, parochial, chauvinistic, and archaic. You can't fight with rogues with gentleman." – March 5, 2023