PRIME Minister Datuk Seri Anwar Ibrahim must not be over-zealous in his quest to win over the support of Muslim Malays by showing that he is more "Islamic" than PAS.
Such is the advice rendered by local historian Ranjit Singh Malhi who was "totally shocked and disappointed" with the Tambun MP's unwarranted knee-jerk reaction to the recent burning of the holy Quran in Sweden by pledging to "immediately distribute one million copies of the Holy Quran globally".
"You chose to react to the foolish action of someone overseas at the expense of Malaysian taxpayers," criticised the independent historian who has written 19 books on Malaysian, Asian and world history in a recent Facebook post.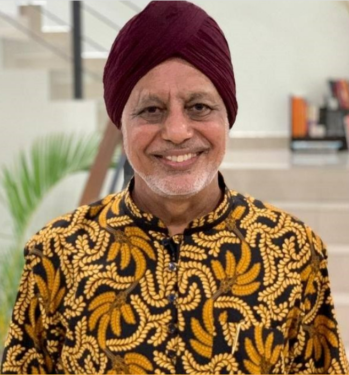 "Additionally, you are trying – albeit unintelligently – to win over the support of Muslim Malays by showing that you are more 'Islamic' than PAS."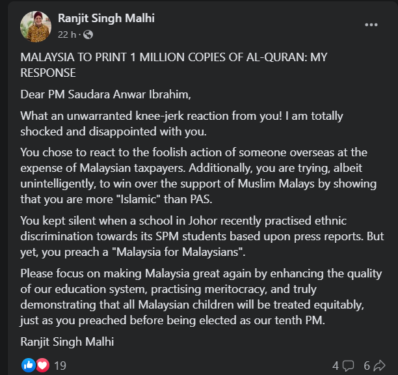 Ranjit also took a swipe at Anwar for keeping silent when a school in Johor recently practised ethnic discrimination towards its SPM students based upon media reports.
"But yet, you preach a 'Malaysia for Malaysians'," contended the historian who was appointed to the prestigious advisory committee of UNESCO's Regional Centre of Quality and Excellence in Education (RCQE) in July last year.
"Please focus on making Malaysia great again by enhancing the quality of our education system, practising meritocracy, and truly demonstrating that all Malaysian children will be treated equitably, just as you preached before being elected as our 10th PM."
Ranjit was referring to the outrage of parents over the recent discriminatory staging of a 'sponsored' two-day/one-night SPM workshop in a hotel limited to Muslim pupils in the guise it involved only the agama subject (Pendidikan Islam) at the SMK Infant Jesus Convent Johor Bahru.
Not only that transparency was absent, the event which happened under the nose of the school's principal "turned out to be a comprehensive workshop covering other subjects such as chemistry and additional mathematics, among others.
Condemning in the strongest terms the recent act of extremist right-wing Swedish-Danish politician Rasmus Paludan in burning the Quran, Anwar had said the move by Yayasan Restu to distribute copies of the Quran globally would be the most beneficial way to respond to the impudent and brazen act committed against the holy book.
'I agree that the most beneficial way to respond to this insane and impudent act is to continue the efforts that have been started and to have the resolve to print and distribute one million copies of the Quran around the world in the shortest time possible," he told reporters after attending the Restu Global Quranic Arts Festival yesterday (Jan 28).
"(It will be) followed up with several programmes towards the appreciation and understanding of the Quran with a clear message." – Jan 29, 2023