GIVEN his unwavering stance that party president Datuk Seri Ahmad Zahid Hamidi should shoulder responsibility for UMNO's terrible performance during the 15th General Election (GE15), political punters are expecting a 'harsh sentence' to be meted out on former Rembau MP Khairy Jamaluddin over his alleged claims of "imported delegates" during UMNO's 2022 general assembly earlier this month.
This could range from anything between an indefinite suspension period to silent the former health minister to even revocation of his membership which could well serve as the final nail in the coffin.
The fate of the former UMNO Youth chief will be known after the party's supreme council meeting tomorrow (Jan 27) evening with the outcome said to be based on the findings of the UMNO Disciplinary Board Management Committee meeting held yesterday (Jan 25), according to Malay news portal Sinar Harian.
For the record, Khairy's claim of phantom voters or vote rigging during the voting process to pass the motion of no-contest for UMNO's two top posts on Jan 14 had been shot down by party secretary-general Datuk Seri Ahmad Maslan and its information chief Datuk Isham Jalil with Sungai Besar UMNO chief Datuk Seri Jamal Yunos wanted Khairy to be suspended for his "extremely embarrassing" claims.
Former Selangor UMNO chief Tan Sri Noh Omar – who like Khairy are at odds over Zahid retaining his leadership in the party as well as the no-contest motion for the party's two top posts – will also be hauled up by the UMNO disciplinary committee on Jan 30, reported Astro Awani.
Khairy who has been very quiet on the social media in recent times last fired a stinging remark on Zahid in Faceebook post dated Nov 22 last year in which he stated that "any negotiation of forming a new government must not involve Zahid".
"He no longer has moral validity as the UMNO president and must resign immediately. He may be president in name, but he has no moral authority left to decide on behalf of UMNO," claimed Khairy in the post which garnered more than 10,000 comments.
"Why are you only speaking up now? I fought Zahid for UMNO presidency in 2018. Since then, he has said many times that he would give way. No need to comment if you already lost. I am still an UMNO member. UMNO members have the right to speak."
Given the out-of-favour Khairy who was made to commit political hara-kiri vis-à-vis his parachuting to contest in Sungai Buloh which he eventually lost to PKR-Pakatan Harapan (PH) candidate Ramanan Ramakrishnan during GE15, one wonders if the 47-year-old son of a former senior diplomat can be an asset to PH if he is ditched by UMNO (or if he wishes to desert UMNO for good).
In a rather ambitious remark, the Oxford University graduate (first degree) had even went on record to state that he would support Datuk Seri Anwar Ibrahim's unity government if he were to be made UMNO president – a rather rash statement given that he uttered those words prior to the party's general assembly itself.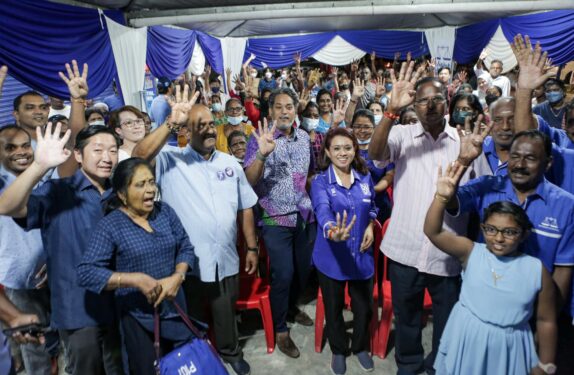 At a glance, he had performed commendably during his tenure as health minister during the Datuk Seri Ismail Sabri Yaakob's administration although that was somehow tainted by corrupt charges in the procurement of COVID-19 vaccines.
To be fair to Khairy, he had on May 26 last year expressed readiness to provide full cooperation to the Malaysian Anti-Corruption Commission (MACC) over its probe into the alleged corruption and irregularities in COVID-19 related procurements.
Denying that he profited from vaccine procurement as minister in charge of the National COVID-19 Immunisation Programme (PICK), the former health minister said he had already given his statement to Parliament's Public Accounts Committee (PAC) on the matter and was ready to be called for questioning again provided his accusers can show proof of his wrongdoing.
Said to be possessing the calibre of PKR's deputy president and current Economy Minister Rafizi Ramli, Khairy had come out of the shadows of his father-in-law, former prime minister (PM) Tun Abdullah Ahmad Badawi but has his reputation was somehow tainted with notoriety associated with he being the ring leader of the 'fourth-floor boys'.
Kepong MP Lim Lip Eng had in the run-up to GE15 queried Khairy over his 'reformist' vision of wanting "to clean up UMNO".
"Allow me to ask just a few questions: When Abdullah was PM, who were the controversial fourth floor boys? Why were they hated by even UMNO members? That there is a saying, 'a leopard never changes its spot'", shouldn't then perhaps that Khairy first clean himself up?" questioned the DAP's central executive committee 2022-2025's member.
"It is unfortunate that we do not have an Oscar award for best politician of the year; otherwise, I believe Khairy would bag the Oscar for being the best chameleon actor that can change colours based on the environment." – Jan 26, 2023
Main pic credit: Bernama