AS he relished the fact that "Selangorians have awakened and are unstoppable" – and possibly the state is 'winnable' by Perikatan Nasional (PN) at the upcoming state polls – former Selangor Menteri Besar (MB) Datuk Seri Mohamed Azmin Ali has further chided his successor Datuk Seri Amirudin Shari for failing to administer the state in a responsible manner.
Interestingly, the former PKR deputy president who is now the Perikatan Nasional (PN) Selangor chairman unleashed the coalition's 'lethal weapon' in Kedah Menteri Besar Datuk Seri Muhammad Sanusi Md Nor who gave Amirudin a "proper schooling with his eloquence" for his (Amirudin) failure to retain Selangor as the country's top investment destination.
For context, the controversial PAS election director has showed up as guest speaker at the PN Jelajah Selangor Baharu political ceramah in Selayang last night (July 11).
"For reference, Selangor fell to the third spot for 1Q 2023 with a total investment of only RM7 bil compared to the Federal Territories and Johor which recorded a total investment of RM22 bil and RM 11 bil respectively," the former International Trade and Industry Minister penned in a Facebook (FB) post.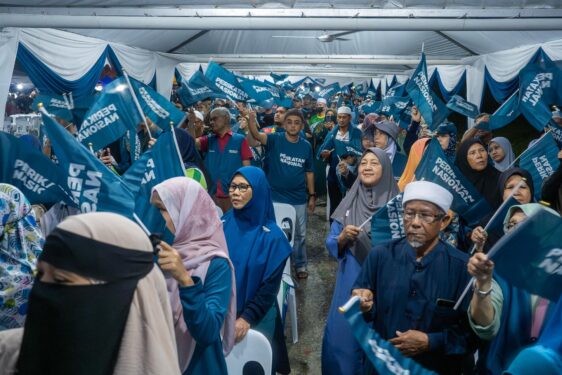 "For the record, Kedah recorded a total investment of RM 68 bil in 2021 under DS Sanusi's leadership. Thousands of quality and skilled job opportunities have been created for children of Kedahans so much so Kedah youths no longer have to migrate to Penang and Selangor to find work."
Added Azmin who is also the PN information chief: "Never had Selangor fallen to such an embarrassing ranking but his has happened under the Pakatan Harapan (PH) state government. What is going to happen to the PH-DAP-Zahid government in Selangor next? FAIL! Come on, together let's rise and re-build a new Selangor on Aug 12."
Earlier in his FB post, Azmin said he was impressed with the big turn-out at the ceramah event with the crowd refusing to budge despite a heavy downpour as they wanted to listen to the words of wisdom by PN warlord Sanusi. – July 12, 2023