NETIZENS cannot be blamed for wondering if Ahmad Iqbal Zulkefli – the former personal assistant of celebrity entrepreneur Datuk Seri Vida (Hasmiza Othman) – is either kidding or out of his mind for wanting to court rowdy cop Inspector Sheila as his future life partner.
"Since her name became viral, I've been fascinated by her sharing on the social media. I've grown fond of her. Many people spoke badly about her which makes me sad," the mStar cited the 29-year-old bachelor whose dream of marrying Vida, 51, in December last year ended with a break-off.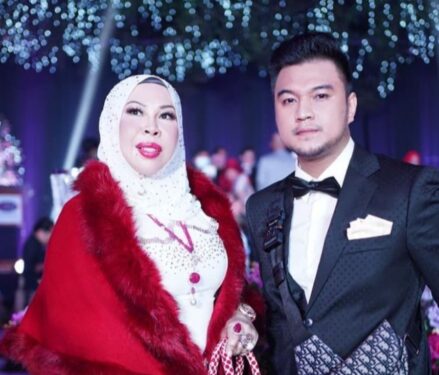 "I like fierce women … the fiercer the better for me. But I also believe she is very pampered (manja)."
Whether the sensational entrepreneur has an inkling for older women is as good as anybody's guess but he is surely very gutsy for daring to believe that there are hidden feminine qualities in the 35-year-old Insp Sheila (real name Sheila Sharon Steven Kumar) who made headlines after videos of her berating lower ranking officers went viral.
Iqbal's dream of wanting to make Sheila his other half in life came about after the motor-mouth cop has turned to Facebook over the weekend 'to track down' marriage-minded "single men regardless of age, race, religions, profession, location, etc".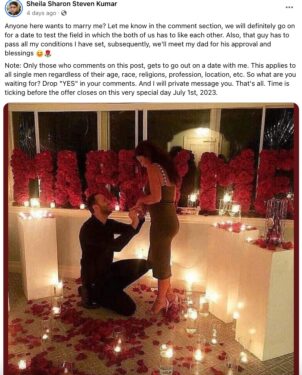 Netizens Rarame, Fazrina Dayu and azlinalina73 were 'saddened' by the fact that they are available yet Iqbal fell for Insp Sheila while Boss jai teased Iqbal for his "out-of-this world taste".
"Inspector Sheila likes to record while Iqbal likes to be recorded … Hopefully they are destined to be life partners," prayed netizen Amir Tak Gila while Iqbal himself wondered if he should be calling his 'future wife' "Baby, Sayang (Honey) or Umi (mum)?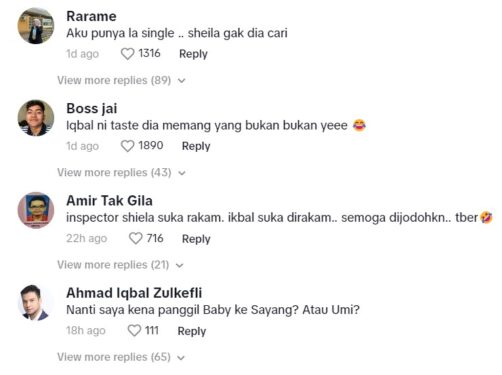 Netizen Nisya kanwal reckoned that Iqbal has a weird taste while juvita R opined that "at times, fierce women can be loving … she may look fierce and nasty in the outside but she could be tender-hearted".

Nur Farsha seconded this notion, reckoning that "the inspector may be strict in her career but perhaps will showcase her soft character to her family members and husband".
"People like Iqbal is suitable for Sheila because both have unique characteristics," added netizen Yet. – July 5, 2023

Main pic credit: Beautiful Nara