Editor's Note: This is not a branded content but merely to showcase FocusM's aspiration to be a multi-sided news portal especially in the run-up to Aug 12's six state elections.
DATUK Seri Hamzah Zainudin, a compelling figure in our country's political panorama, puts forth an influence that extends far beyond the confines of party politics. His role as an opposition leader does not confine him; instead, he commands respect from leaders worldwide and exemplifies leadership that exceeds political boundaries.
A series of noteworthy interactions with regional leaders reinforces his prominent position on the international stage. One meaningful encounter was a brief yet impactful meeting with the High Commissioner of Singapore to Malaysia, His Excellency Vanu Gopala Menon.
Despite its brevity, the interaction highlighted Hamzah's crucial role in fostering Malaysia's bilateral relations.
Moreover, his recent meeting with Singapore's Social and Family Development Minister Masagos Zulkifli (main pic) further attests to his instrumental role within the regional and global political sphere.
Far from being merely an opposition leader, the Larut MP emerges as a significant player in shaping international relations, reflecting a form of diplomacy that reaches across borders and political divisions.
The respect the former Home Minister commands among international leaders speaks volumes of his diplomatic acumen and strategic foresight. He mirrors Bersatu's core values – inclusivity, progress, and forward-thinking – and channels them with unwavering conviction.
His ability to engage in meaningful discussions on critical issues underscores his crucial role in domestic and international affairs.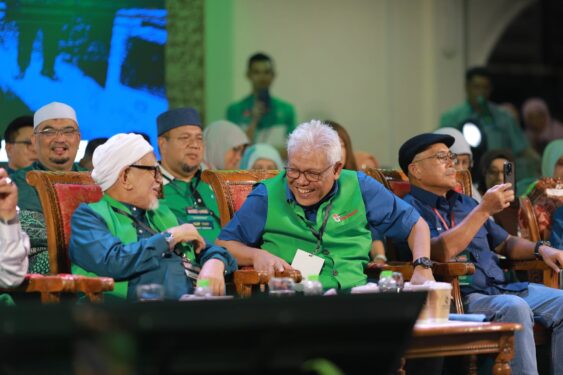 His poignant response to the recent incident of religious disrespect in Stockholm (Sweden), is a testament to his steadfast commitment to global peace, tolerance and religious sanctity. This powerful condemnation resonated across the Muslim world, solidifying his reputation as an influential voice against intolerance and extremism.
His influential role within the political landscape mirrors that of previous global opposition figures like the UK's Jeremy Corbyn and Canada's Jagmeet Singh. Like these leaders, Hamzah's political career underscores that opposition politics can be a platform for championing national interests and fostering international dialogue.
As we navigate through these challenging times, it's the vision and leadership of figures like Hamzah that provide the beacon of hope. His role as the Bersatu secretary-general goes beyond managing the party's affairs. He envisions a future where the party – and by extension Malaysia – flourishes, reflecting Bersatu's progressive outlook.
In conclusion, Datuk Seri Hamzah Zainudin's visionary leadership and unwavering commitment illuminate Malaysia's path toward a promising future. Amidst 21st-century challenges, leaders like him who transcend conventional roles guarantee a bright horizon for Malaysia. – July 17, 2023
Mahathir Mohd Rais is the Perikatan Nasional (PN) Federal Territories' information chief.
The views expressed are solely of the author and do not necessarily reflect those of Focus Malaysia.