INCARCERATED ex-premier Datuk Seri Najib Razak is one step closer to emulating Opposition leader Datuk Seri Anwar Ibrahim who owes it to two pillars of feminine strength – that of his wife Datuk Seri Dr Wan Azizah Wan Ismail and daughter Nurul Izzah – as he navigated through murky waters of Malaysian politics from behind bars for close to one decade.
Apart from his "man of the house" wife Datin Seri Rosmah Mansor who pending her appeal is staring at a 10-year jail term and a RM970 mil fine for her involvement in the RM1.25 bil project to supply solar hybrid energy to rural schools in Sarawak, his daughter Nooryana Najwa is seemingly demonstrating her prowess as a wannabe politician.
From rallying justice over her father's innocence beginning with UMNO's special presidential briefing in late August, Nooryana is gradually 'unmasking' herself as her father's 'voice' in his Facebook posting.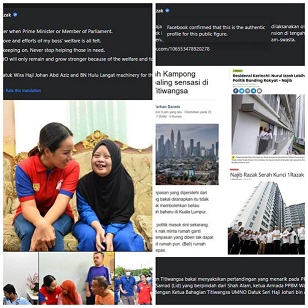 Apart from having indirectly resolved the jigsaw puzzle as to who has been actively updating her father's Facebook account when he is known to be deprived of access to telecommunication devices (laptop or smart phone) or even Internet access, Nooryana has also be honing her skill as a political analyst.
Whether based on her own deduction or UMNO intelligence sources, she expects the Titiwangsa parliamentary seat to witness an interesting contest in GE15 between Khalid Samad who moved from Shah Alam, Bersatu's youth chief Wan Ahmad Faysal and UMNO Titiwangsa division head and former finance minister II Datuk Seri Johari Abdul Ghani.
"Among the issues expected to be instigated by Khalid is the issue of the 38 flat owners of Perbadanan Kemajuan Negeri Selangor (PKNS) Sungai Baru who do not agree with the re-development project and have received a notification letter under Section 8 of the Land Acquisition Act 1960 which forces them out of their units with compensation," she predicted.
Citing flat owners, Nooryana who is unlikely to contest the Lembah Pantai Parliamentary seat in the upcoming 15th General Election (GE15) but could potentially replace Maslina Harun who is now over 35 as the party's Puteri wing chief, argued that the amount of compensation around RM250,000 was insufficient and not enough to buy a new house to replace the residence that the flat owners were forced to vacate.
"Actually, the Government can use the model that has been successfully implemented by Najib for the Residensi Kerinchi project and also for the 1Razak Mansion project in the centre of Kuala Lumpur (a public-private partnership re-development project)," she proposed.
"Even though the Residensi Kerinchi re-development project was instigated and fiercely protested by (the then Lembah Pantai MP) Nurul Izzah, majority of the DBKL (Kuala Lumpur City Hall) flat dwellers are very satisfied when their original flat with an area of ​​400 sq ft and worth around RM50,000 was replaced for free with a new apartment worth RM500,000 in Residensi Kerinchi which was built on the original site."
"I hope BN will consider using the existing model in the Najib Razak era to solve the problems of PKNS Kampung Sungai Bharu flat occupants and also for all the old flat re-development projects across the country if BN wins the Titiwangsa parliament and GE15 as a whole," added Nooryama.
On the same note, she also urged Titiwangsa voters to ask why Khalid never consulted or used the BN government model before for the Kampung Sungai Bharu re-development project when he served as the Federal Territories minister even though the re-development of Kampung Bharu was one of his pet projects.
"Titiwangsa voters also need to ask Wan Ahmad why the land acquisition notification was issued on June 21, 2021 in the middle of an emergency and total lockdown when the Perikatan Nasional (PN) government under his boss (Tan Sri) Muhyiddin (Yassin) was in power." – Oct 24, 2022
Main photo credit: Najib's Facebook