Editor's Note: In her latest tweet, controversial stand-up comedian Jocelyn Chia berated some Malaysians for having "been brow beating and harassing me, my friends, my family, my colleagues while at the same time demanding an apology".
The unrepentant naturalised US citizen was adamant that no apology whatsoever is coming from her end: "Do they really think I would feel like apologising after getting all this shit from them?  I will NOT be bullied into giving an apology. An apology needs to come from the heart and should not be coerced".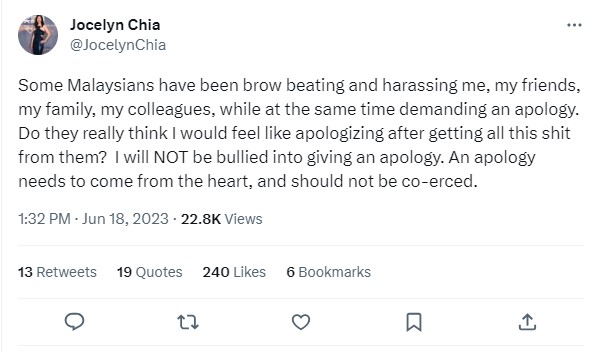 As the Boston-born but Singapore-raised lawyer-turned-comedian has not shown any remorse for 'shredding' the hearts of family member and relatives of the ill-fated flight MH370, a second year (presumably Malaysian) University of Leeds' law student Joel C. has delved into prospect of extraditing Chia to Malaysia for a crime committed in the US.
This comes about as Inspector-General of Police (IGP) Tan Sri Acryl Sani Abdullah Sani has sought the help of Interpol to trace the whereabouts of Chia which to the reckoning of former Dewan Negara president Tan Sri Rais Yatim is a wrong priority given urgency has to be accorded in nabbing fugitive financier Low Taek Jho a.k.a. Jho Low first.
Below are his thoughts penned by Joel C. on his Linkedin page recently:
— 0 —
JOCELYN Chia gained notoriety for her controversial jokes made in the US which sparked significant controversy and upset Malaysians.
Originally from Boston, Chia is an American comedian who spent part of her education in Singapore. She held dual Singaporean and American citizenship until adulthood but is currently a US citizen. Prior to transitioning to comedy, she worked as a lawyer from 2006 to 2009.
On June 13, the Malaysian Police formally approached Interpol, seeking assistance in locating comedian Jocelyn Chia. As of now, the subsequent steps remain uncertain with Inspector-General of Police (IGP) Tan Sri Acryl Sani Abdullah Sani confirming the filing of an application with Interpol to obtain Chia's complete identity and current whereabouts.
In relation to the case, Johor police chief Datuk Kamarul Zaman Mamat stated that an individual has lodged a report, and the investigation falls under Section 211 of the Communications and Multimedia Act 1998.
This section prohibits the distribution of offensive content wherein content applications service providers or individuals using such services are prohibited from providing indecent, obscene, false, menacing, or offensive content with the intention to annoy, abuse, threaten or harass any person.
Addressing the central concern, the question arises whether a non-Malaysian citizen can be extradited to Malaysia for an alleged crime committed outside of Malaysian jurisdiction.
Each country has its own set of laws, and Malaysian laws do not have jurisdiction in other countries. For instance, if a Singapore national commits a crime in Malaysia, they cannot be prosecuted using Singapore laws but Malaysia law instead.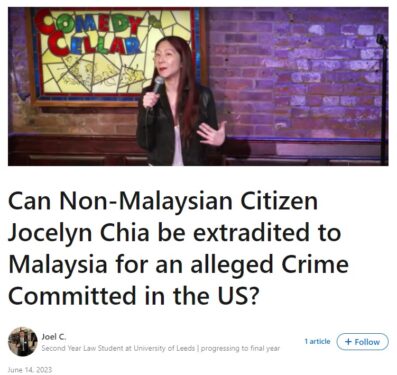 Imagine you are a member of a sports team and during a match, you engage in unsportsmanlike conduct, resulting in a penalty or disciplinary action from the referee or team management.
However, when you return home after the game, your family members who are not part of the sports team would not hold you accountable for your behaviour on the field. The rules and consequences within the sports team do not extend to your personal life outside of the sporting context.
What if Jocelyn Chia made the jokes while on Malaysian soil and subsequently fled to the US? In order for a successful extradition to take place, certain conditions must be fulfilled.
As outlined in Section 6 of the (Malaysian) Extradition Act, the fugitive must have committed an offense that qualifies for extradition which involves a punishment of at least one year of imprisonment or even the death penalty.
Additionally, the crime must have occurred within the jurisdiction of Malaysia. In the case of Jocelyn Chia, she is alleged to have violated Section 211 of the Communications and Multimedia Act 1998 which carries imprisonment for a term not exceeding one year upon conviction.
Consequently, it is improbable for extradition to occur in this particular scenario since the offense carries a prison term of less than a year and did not fundamentally transpire on Malaysian soil.
In conclusion, the extradition possibility for non-Malaysian citizen Jocelyn Chia regarding a crime allegedly committed in the US appears unlikely under the current circumstances.
While her controversial jokes have sparked significant controversy in Malaysia, the legal framework surrounding extradition imposes certain conditions that must be met. As per the Extradition Act, an offense must carry a punishment of at least one year of imprisonment and occur within Malaysian jurisdiction to warrant extradition.
However, the offense Chia is accused of – as specified in Section 211 of the Communications and Multimedia Act 1998 – carries a maximum prison term of less than one year upon conviction, falling short of the requirement.
Furthermore, the alleged crime did not take place on Malaysian soil. Hence, based on these factors, it is improbable that Chia would be extradited to Malaysia. Nonetheless, it is essential to recognise the ongoing investigation and police proceedings that will determine the final outcome. – June 19, 2023