LEE Zii Jia is a frustrated young man. With six consecutive early exits with the latest on Thursday (March 9) to Taiwan's world No. 49 Lee Chia-Hao in the second round of the German Open, it is understandable why the national men's singles ace posted, "I'm f*****g done" on social media (Instagram story).
Not only that this was the first time he had lost to a player outside the top 40 in four years, the 24-year-old Kedah-born shuttler's inconsistency of form which dated back to the Malaysian Open (Jan 10-15) vert much summed up one setback after another since his exit from the national team in January 2022.
Imagine just soon after the German Open defeat, the World No.4 who is now 'warming up' for the All-England Open in Birmingham this week was dealt another blow that his former coach, Indra Wijaya, has rejected his offer to settle out of court an alleged unfair dismissal dispute.
For the record, it was reported recently that Team Lee Zii Jia (LZJ) had made an offer to Indra following an unsuccessful mediation session at the Industrial Relations Department (JPP) last month. The JPP then gave Indra until March 13 to respond to the offer.
Indra had joined Team LZJ in March last year from the Badminton Association of Malaysia (BAM) before he was unceremoniously dropped from the independent shuttler's team in November. The Indonesian had earlier inked a three-year contract with Zii Jia until 2024.
While Indra who has since returned to Jakarta was recently announced as the new Indonesian women's singles head coach, Zii Jia is finding as if the world around him will crumble down.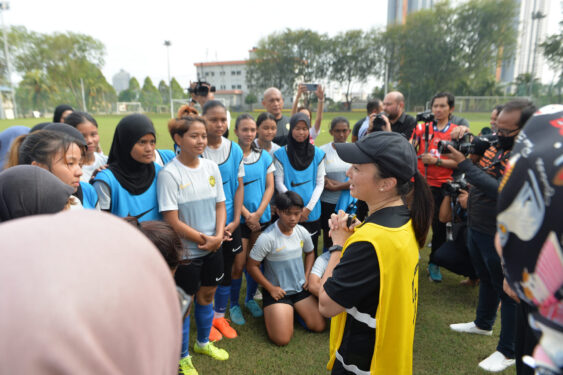 While badminton fans are still rallying behind him with the hope that the upcoming All-England Open tournament which we won two years ago would mark a turning point for him, it is praiseworthy for Youth and Sports Hannah Yeoh to offer herself as a mediator to address Zii Jia's alarming drop in form.
"I contacted Zii Jia after his last match and told him that I would meet him again when he comes back to discuss how we can improve his performance, and he agreed," said Yeoh who was unimpressed with Zii Jia's choice of words in his social media post.
"I recently spoke about how athletes are a source of inspiration to many Malaysians and how they are looked up to. But at the same time, we have to remember that athletes also have their ups and downs. I don't want to be in a position where I say, 'You shouldn't be like that, when you lose a match'," noted the Segambut MP.
"I want to provide the support infrastructure for our athletes. Some of the things we are looking at are social media training and mental strength training. A lot of our athletes were taken away from their friends and families as early as 12 years old to be placed in training programmes where their entire focus is on the sport."
Added Yeoh: "We see sports as a recreational activity, but for them (professional athletes) it is their job. I want to show empathy and help them improve. I know there is a lot of room for improvement which is why I want to meet Zia Jia when he comes back." – March 12, 2023