By Ryan Ho Kwok Xheng
MCA Youth notes that 10th Prime Minister (PMX) Datuk Seri Anwar Ibrahim has once again provided an explanation to the public on the Bumiputera quota system in education and as to why it cannot be replaced overnight with a system based on meritocracy.
However, the manner in which the premier replied a question posed by a student during a dialogue session at Kolej Matrikulasi Pulau Pinang in Kepala Batas caught many by surprise.
This is because Malaysians, particularly youths, were very excited and held high hopes in Anwar as a leader who touched base with the rakyat.
Branded as a reformist – and as the initiator of Malaysia Madani – he projected values and announced policies that would be inclusive of every layer of society regardless of race and religion.
Hence, what happened last Saturday (Aug 5) does not seem to reflect how Anwar is usually portrayed, ie a humble leader who listens to the voices of the rakyat regardless of age; one who is open and gives space to anyone in the spirit of democracy or as a visionary leader who looks far ahead and defends the fates of the diverse communities in Malaysia.
Like others who held high hopes, MCA Youth had expected the PM to respond in a calm, engaging and professional manner given his status as a statesman.
Was it necessary to interrupt and talk down the student's question and clarification attempt? The young lass had only raised a question in the minds of many to a PM well renowned for his years of Reformasi struggle.
To affected students, MCA Youth sympathises with what happened. It is hoped that the experience will make you more mature and courageous by becoming an outstanding community leader one day.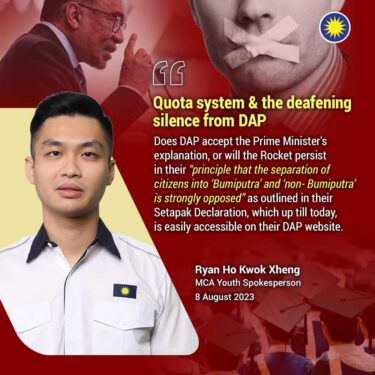 Has DAP forgotten its Setapak Declaration?
What is DAP's current position on their Setapak Declaration? At the same time, MCA Youth once again urges DAP to clarify its position on the Setapak Declaration.
To quote from the Setapak Declaration: "The Setapak Declaration affirms DAP's viewpoint that in the process of nation-building, ethnic equality must be made the paramount principle, and it is upon this principle that the separation of citizens into Bumiputera and non- Bumiputera is strongly opposed."
Recalling DAP's strategy of yore, the Rocket as an opposition party then had weaponised the Bumiputera quota system against Malaysians – in particular, the Chinese community – to detest MCA.
Since Independence and up till now, MCA upholds the Federal Constitution as the supreme law of the land, and live by the principles of the Rukun Negara to maintain national unity and harmony.
Presently, the words by PM Anwar who is also the Pakatan Harapan (PH) chairman are consistent with the words of his predecessors whereby the quota system aims to maintain harmony, enable opportunities for disadvantaged groups while not negating opportunities for students of other communities who genuinely deserve it.
Therefore, the question now is: Does DAP accept the PM's explanation or will the Rocket persist in its "principle that the separation of citizens into Bumiputera and non-Bumiputera is strongly opposed" as outlined in their Setapak Declaration which up till today, is easily accessible on their DAP website.
If DAP rescinds its Setapak Declaration, apologising to their voters and supporters will indicate sincere contrition for having misled them in the past to scoop their support and votes. – Aug 8, 2023
Lawyer Ryan Ho Kwok Xheng is an MCA Youth's spokesman.
The views expressed are solely of the author and do not necessarily reflect those of Focus Malaysia.
Main pic credit: kiniTV