IRATE with the latest attacks against Hindus and other religions by Islamic preacher Idris Sulaiman, a human rights NGO said they will be lodging a police report on Saturday, at the Sentul district police headquarters.  
"His video can be viewed at the Facebook page called Ilmu Salaf Dot Com. His speech was insulting and seditious.  
"In addition to Sentul IPD, our members will also lodge reports in police stations in other states," Global Human Rights Federation president S Shashi Kumar told FocusM.  
Earlier today, FocusM reported that Idris had made disparaging comments, criticising a group of undergraduates from the Islamic University Malaysia in Gombak (IIUM) for helping to clean up a Hindu temple in Taman Klang Utama which was affected by flood waters.  
In a 7-minute video, the preacher said that many Muslims are getting confused between practising tolerance among multiracial Malaysia and protecting one's faith in Islam.  
Idris then claimed that based on Islam, there are only two religions; one is Hezbollah (religion of God) and the other Hezbosyaitan (religion of the Devil).  
He then jested that since Muslims were okay cleaning up non-Muslim places of worship, then they should also organise themselves to clean up discos, gambling dens and pigsty.  
"And don't complain it cannot be done because the places are considered haram and unclean. I wish to remind Muslims that syirik (heresy) is the most abominable of all sins and we should stay away from it," Idris was seen saying in the footage.  
Touching on rising criticism against non-Muslims, Shashi Kumar said that today marks the 100th day of the NGO and its supporters lodging police reports against another incendiary Islamic preacher, Syakir Nasoha.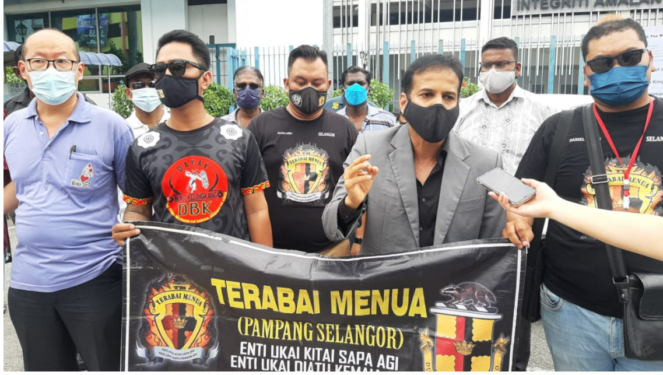 After initial investigations, Syakir's case was transferred to Bukit Aman's Unit Siasatan Jenayah Terkelas (USJT) for further probe but nothing has come forth until today.  
"Syakir called us infidels who are bent on destroying Muslims in Malaysia. He even wrongfully said that that Hindus and Buddhists are killing Muslims in Thailand, Pakistan and India. 
"He also accused the Dayaks of slaughtering Muslims in Papua New Guinea," Shashi Kumar noted.  
State-sanctioned conspiracy?  
Following the reports, he said that his NGO had sent two emails to USJT and Bukit Aman requesting for update, with memoranda sent to Bukit Aman on Dec 15 and the Attorney-General's Chambers (AGC) on Dec 22, with no response.  
"But we're not surprised by the silence from the authorities. This is not the first time preachers like Syakir had escaped legal action, with the police classifying the case as 'no further action'".  
"In fact, Syakir had admitted to making the incendiary remarks but said it was meant for Muslims only.  
"On the flip side, if a non-Muslim had made such remarks against Muslims, the former would have faced arrest within 24 hours and charged at the soonest," Shashi Kumar quipped.  
The NGO leader alleged that there seems to be conspiracy between such preachers and the State, as it seems these unscrupulous individuals are free to do as they please with no action being taken.  
"These rogue preachers will continue to act with impunity, as they know that no action will be taken against them and we can see more emerging everyday on social media.  
"Why are they 'protected'? Why the double standards? I challenge the authorities to name me one Islamic preacher who had been arrested and charged for making disparaging remarks against non-Muslims," Shashi Kumar concluded. – Jan 13, 2022.