THE Gerakan Selamatkan Malaysia (Save Malaysia Movement) secretariat has strongly condemned the arrest of Bersatu activist Chegubard whose real name is Badrul Hisham Shaharin who was detained in front of the PAS headquarters in Jalan Raja Laut, Kuala Lumpur (KL) on Thursday night (Sept 14).
Former Putrajaya UMNO deputy chief Datuk Tun Faisal Ismail Aziz who is now a Bersatu member said Chegubard was arrested following his refusal to assist the police in their investigation by testifying to in six cases involving him.
"The secretariat has held a meeting with all affiliated bodies such as non-governmental organisations (NGOs), NGI (non-government institutions) and political parties to discuss the direction of the Save Malaysia Movement which will begin on Sept 16 (today) and the demands presented to the government," he told a media conference yesterday (Sept 15).
For context, Badrul Hisham has been released in the early hours of yesterday (Sept 15) after having his statement recorded by the police. In a Facebook post, Perikatan Nasional (PN) Youth leader Ahmad Fadhli Shaari said Chegubard was released at 2.15am.
Badrul has insisted that his arrest was linked to today's Save Malaysia gathering despite Bukit Aman criminal investigation department (CID) director Datuk Seri Shuhaily Zain having clarified that the former had been arrested after several reports were lodged against him, including over his comments on the Ambalat issue.
Moreover, Shuhaily has stated that to-date, no police permit has been issued for the assembly which rendered it illegal in view of not having received any request notice on the matter from the event organiser while the venue itself "has not been finalised".
Tun Faisal who was the former press secretary to ex-UMNO warlord and former Ketereh MP Tan Sri Annuar Musa (who is now a PAS member) also noted that the peaceful assembly which is scheduled after the Zohor (afternoon) prayers today at the Kampung Baru Mosque in KL was formed by combining political parties and non-governmental organisations (NGOs).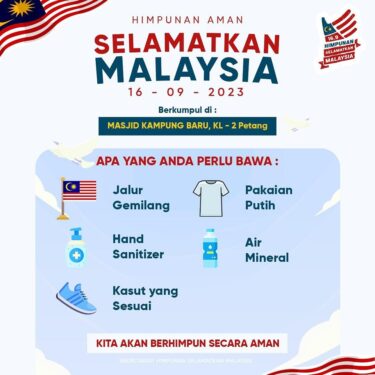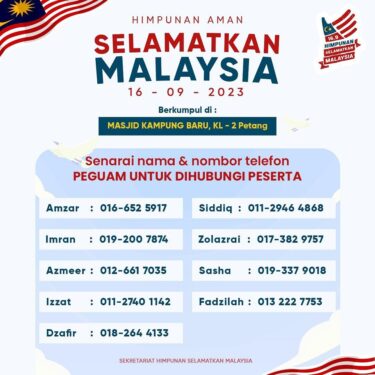 "It was formed to restore the integrity and dignity of the country which was damaged due to the dropping of the corruption case of discharge not amounting to acquittal (DNAA) against Deputy Prime Minister (DPM) Datuk Seri Ahmad Zahid Hamidi," explained Tun Faisal.
"Next, the gathering is to press for a separation of the Attorney-General (AG) and the Malaysian Anti-Corruption Commission (MACC) from the executive power and to guarantee justice and fairness to every Malaysian citizen."
Therefore, Tun Faisal said the joint secretariat calls on all citizens who love integrity and agree with the three demands of the joint secretariat to come together and gather at the Kampung Baru Mosque with the said event kicking off after today's Zohor prayers.
"We are against any provocative behaviour and request that all participants maintain discipline and order throughout the rally," he appealed. "The joint secretariat has also established a legal team in case any party faces action from the authorities with regard to this gathering." – Sept 16, 2023
Main pic credit: HarakahDaily