TWITTER influencer Dr Maslin Sis (@BN4everTN5O) who has more than 10,000 followers has recently shared a video featuring MUDA state poll candidate Iswan Ishak who will be contesting the Repah state seat in Negri Sembilan in the upcoming state elections.
In the video, the Maslin Sis made a comparison between the party's perfect presentation of its candidate and a separate video showing the MUDA candidatee who is also a social media influencer seemingly mocking OKUs (persons with disabilities) at a parking lot.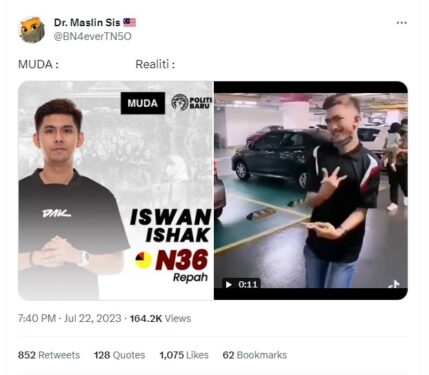 The re-posted video has garnered attention and raised concerns about the party's stance on disability issues.
The said video was originally posted in 2021. At that time, Iswan was accused of making fun of people with disabilities but he later apologised, explaining that the video was intended to be used as a "warning" for normal people not to park their cars in parking bays reserved for people with disabilities.
For the record, Iswan Ishak was criticised by the public for the Dec 9, 2021 video uploaded on TikTok showing him and a friend acting as if they were disabled after parking their vehicle in an OKU bay.
Given that many Malaysians despise the act of mocking people with disabilities, the re-posting of the video by Dr Maslin Sis shows that this episode in the life of the 32-year-old election candidate is not going away easily.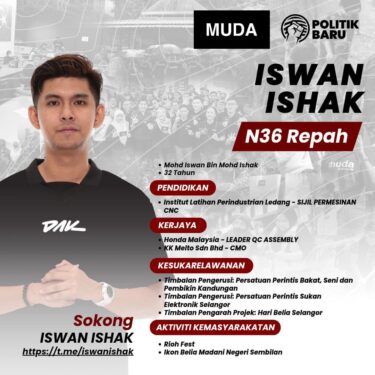 It will probably haunt him during the electoral campaign while the video is still going viral on internet.
Nevertheless, MUDA has defended Iswan after the video was re-posted. The party's co-founder Amira Aisya Abdul Aziz posted a response to the video yesterday (July 22), explaining that all MUDA candidates as well as top MUDA leaders have to undergo disability sensitisation training.
"Everyone has their past. The most important thing is the willingness to learn. Iswan has apologised publicly and is willing to undergo training," tweeted the Puteri Wangsa state assemblyperson in Johor in a reaction to a response to a curious netizen.
"Issues related to OKU are also issues that Iswan wants to fight for in Negri Sembilan. Don't punish people for their past. But give him a chance to do more for the future." – July 23, 2023