GERAKAN president Datuk Dr Dominic Lau Hoe Chai should not have thrown a spanner into the aspirations of Perikatan Negara (PN) to seize at least 15 if not 20 state assembly seats in the 40-seat Penang state assembly amid the coalition's perceived huge wave of rejection towards the unity government.
This is because his game plan of grabbing the Bayan Lepas seat from a potential PAS candidate in the upcoming state poll has sparked major disharmony within the PN election machinery, thus derailing the prospect of the PN forming a minority government in Penang.
In the view of political observer Dr Tanaka Mustafa, this "will undoubtedly open up the old wound when the far from solid PN coalition failed to support its Sungai Petani parliamentary candidate (Bersatu's Robert Ling Kui Ee) during the 15th General Election (GE15)" thus resulting in a narrow loss of the seat to Pakatan Harapan (PH)-PKR's Mohammed Taufiq Johari by 1,115 votes.
"We understand that Dominic as the Gerakan president wants a safe seat so he can win, hence safeguarding his dignity as party president. But if this is done by means of sailing (literally 'steal'), he may still lose due to protest votes within the PN machinery itself," Tanaka penned in a recent Facebook post.
"The way Dominic sailang the Bayan Lepas candidate is very disrespectful to the Penang PN's agreement because he leveraged the influence of the PN presidential council to overwrite gentlemen's understanding at the state level.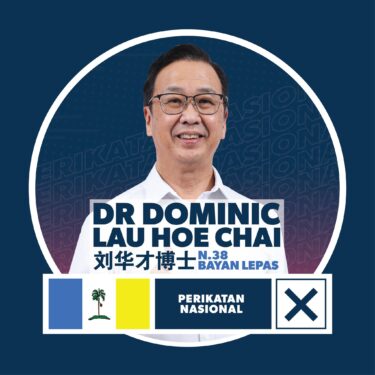 "He knew the PAS machinery would heed the central command, hence he used that advantage for his candidacy with the blessing of PN's top leadership."
By right, Tanaka reckoned that the PN top brass should have first examined the sentiments and opinions at ground level, especially those within PAS which will be mobilising the election machinery.
"Dominic will not contribute a victory if he insists on competing in Bayan Lepas. Even if he wins, the relationship between PAS-Gerakan in Penang will not be harmonious. It will only repeat past episode of PAS-DAP relationship," he opined.
Instead, Tanaka insisted that Lau should be brave and confident enough to contest any seat allocated to Gerakan.
"Is Dominic a coward to face DAP or PKR candidates? Hasn't Gerakan developed the economy and progress of Penang together with BN (Barisan Nasional) for a long time, hence this could be his political capital to convince Penangites, especially the Chinese, that Gerakan is better than DAP?" wondered Tanaka.
"Once the PN top leadership has made a decision to field him, the ball was in Dominic's feet whether to sailang PAS in Bayan Lepas or to retreat and find another seat that can be allocated for Gerakan."
Added Tanaka: "Don't let the Penang PAS supporters lose their faith in Dominic and Gerakan whether they win or lose. Or better still, Dominic should wait for the parliamentary seat to become vacant. For the level of the party president, he should preferably be eyeing a parliamentary seat." – July 30, 2023