DUOPHARMA Biotech Bhd (Duopharma Biotech), a leading pharmaceutical company in Malaysia, recently marked a significant milestone with the unveiling of its new regional office in German Centre, Singapore reinforcing its commitment to the Singaporean market.
The Singapore office has played a key role in charting Duopharma Biotech's regional and international footprint, driving business activities and opportunities.
While Duopharma Biotech has since expanded into the Philippines in 2007 and plans to establish a wholly-owned subsidiary in Indonesia in April 2023, Singapore remains a crucial base for the company. As the key growth hub, the new office also reflects Duopharma Biotech's increasing footprint thus strengthening its position in the region.
"Our key objective is ensuring that we meet the needs of patients and consumers by making our products available, accessible and affordable to a wide and diverse range of customers, including offerings in preventive medicine and early detection.
"And for the added benefit of our Muslim patients and consumers, all products manufactured in our facilities are certified Halal by the Department of Islamic Development Malaysia (JAKIM). In fact, Duopharma Biotech is the first producer of the world's first halal-certified cancer drug," commented Duopharma Biotech group managing director Leonard Ariff Abdul Shatar.
Moreover, Duopharma Biotech has a portfolio of 78 products sold in Singapore comprising ethical and consumer healthcare products. The company is active in the market segments of private general practitioners, hospitals, retail, government and others.
Furthermore, in line with its commitment to affordability and accessibility, Duopharma Biotech is targeting to expand its portfolio in Singapore, focusing on introducing its line-up of biosimilars as well as sustainable plant-based functional and wellness foods and cosmeceuticals, in addition to other segments such as medical devices, commercial digital integration, innovative healthcare solutions, telemarketing and more.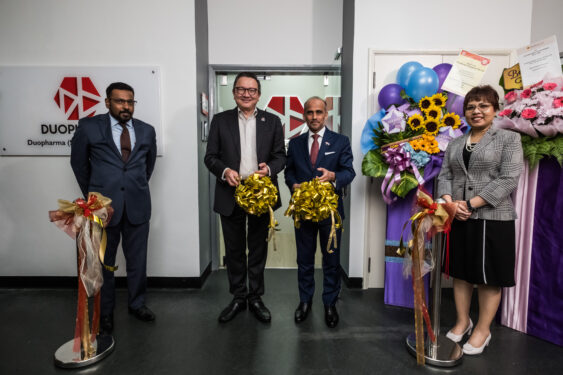 The launch was graced by the High Commissioner of Malaysia to Singapore Datuk Dr Azfar Mohamad Mustafar. The company was represented by Ariff and Duopharma Biotech Commercial CEO Wan Amir Jeffrey Wan Abdul Majid.
This office will serve as Duopharma Biotech's operation hub, facilitating enhanced customer support, fostering closer collaborations with local partners and driving regional and global business activities, capitalising on Singapore's reputation as a healthcare leader in the region.
According to Dr Azfar, the launch of Duopharma Biotech's new office in Singapore aligns perfectly with Singapore's Healthier SG initiative, demonstrating the company's commitment to enhancing healthcare infrastructure and supporting preventive measures while presenting an opportunity to play a critical role in realising Singapore's healthcare goals.
Duopharma Biotech's Singapore team, instrumental in the company's success, will continue to drive its growth and contribute to its mission of providing innovative healthcare solutions. – June 28, 2023