FORMER Barisan Nasional (BN) strategic communication deputy director Eric See-To (main pic) has blamed UMNO's top brass for their lackadaisical attitude in clearing the name of party president Datuk Seri Ahmad Zahid Hamidi whose reputation has been smeared by his corruption case.
Zahid's tarnished image in addition to the disgruntlement of UMNO's grassroots over the party's alliance with the Pakatan Harapan (PH) coalition helmed by Prime Minister Datuk Seri Anwar Ibrahim as well as the need to befriend DAP have led to massive vote swing in favour of Perikatan Nasional (PN) with UMNO only winning 19 of the 107 seats (success rate: 18%) that it contested in the Aug 12's state polls.
A prominent BN cybertrooper during incarcerated ex-premier Datuk Seri Najib Razak's administration, See-To claimed that he had released numerous social media posts in the beginning of February this year to explain and Deputy Prime Minister's (DPM) court case "because I understand that this is one of the main issues that damage the president's image".
"In my analysis, the UMNO president is indeed innocent in the Akalbudi case (where he was charged with 47 counts of criminal breach of trust [CBT], bribery and money laundering). That's why I've helped to explain as clearly as possible so that people will understand," penned See-To in a Facebook post under his pseudonym "Lim Sian See".
"At that time, I had urged many from the highest leadership of UMNO to do a nationwide roadshow especially for the six states that would be facing state polls to explain the case of Zahid and Najib as a prelude for to face the state elections."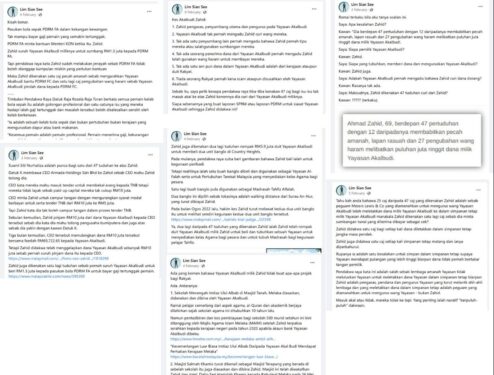 In See-To's view, it was obvious that the cases the Barisan Nasional (BN) chairman were implicated with "are all about political persecution and selective prosecution whereby he shouldn't even be charged in the first place".
"(Back then), all at the top leadership agreed. They said it was a good idea that is worth realising. There was a need for it … But in the end, no action was taken," he lamented.
"When I met the UMNO president about five weeks ago and I raised this incident, he said he wasn't aware (of any plan to hold roadshows).  I can only facepalm when I hear his answer. So, who do you want to blame now?" – Aug 21, 2023