COMMUNICATIONS and Digital Minister Fahmi Fadzil has posed a challenge to Bersatu president Tan Sri Muhyiddin Yassin by urging him to render the necessary assistance to locate his son-in-law Muhammad Adlan Berhan who is on the Malaysian Anti-Corruption Commission's (MACC) wanted list.
The Pantai MP and Pakatan Harapan (PH) communications director contended that Adlan, 48 (who is married to Muhyiddin's daughter Nabilah) should not have gone missing if he has not committed any wrongdoing.
"If he's not at fault, why go missing? He should show up," Fahmi pointed out during the Arus Merah Kuning ceramah in Meru, Klang last night (Aug 7). "TS Muhyiddin has to answer where his son-in-law is. We ask that he answer this."
To re-cap, the anti-graft agency is hot on the trial of Adlan – along with legal practitioner Mansoor Saat, 69, to assist in an investigation into corruption and misappropriation of fund related to the registration, recruitment and biometric storage of foreign workers in the Home Ministry.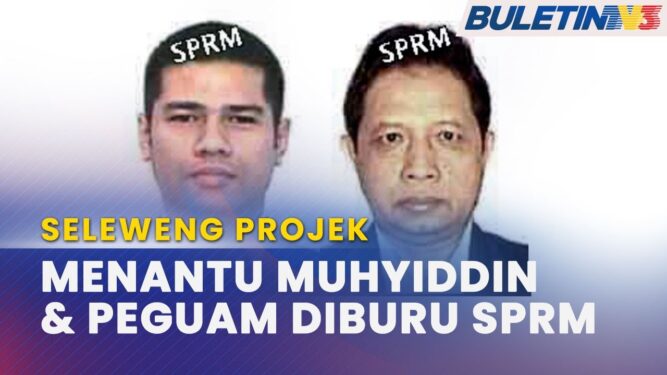 Following the MACC's review with the Malaysian Immigration Department, both Adlan and Mansoor are believed to have left Malaysia on May 17 and May 21 respectively with no record of re-entering the country.
Recall that on Feb 9, Muhyiddin who is also the Perikatan Nasional (PN) chairman had denied any involvement in the award of a lucrative contract allegedly linking Adlan to the Home Ministry.
The Pagoh MP further said he was never involved in the awarding of the National Integrated Immigration System (NIISe) contract to IRIS Corp Bhd for which there had been an open tender. This is because he had no say when it came to such matters.
At the time of writing, there has been no reaction from the PN side which would is very much expected to accuse the MACC's action as political persecution given the six state elections are just four days away (Aug 12). – Aug 8, 2023