WHILE filial daughter Nooryana Najwa Najib and Prime Minister Datuk Seri Ismail Sabri Yaakob are right that incarcerated ex-premier Datuk Seri Najib Razak deserved the best medical treatment required, there is also the need to weigh the professional opinion of the health authorities.
In this regard, veteran lawmaker Lim Kit Siang said he is on the side of Health director-general (DG) Tan Sri Dr Noor Hisham Abdullah, who has denied that the Pekan MP was seriously ill.
In a statement on Najib's health status yesterday (Sept 12), Hisham said Najib was admitted to the Kuala Lumpur General Hospital (HKL) on Sept 9 (Friday) as an elective case to ensure that his health is in "good and optimum condition."
Following this, screening and tests were conducted by senior experts, who are heads of their respective clinics, and the HKL management also held a family conference twice with Najib and his family members.
"The experts had unanimously agreed that he could be discharged from HKL," Lim, the Iskandar Puteri MP, pointed out.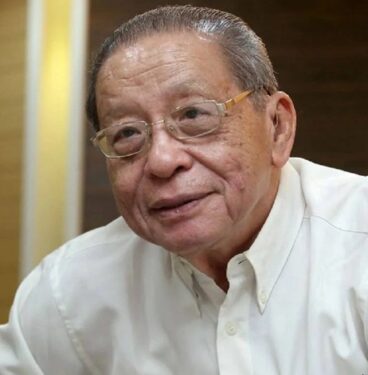 "I believe the Health DG and the HKL's experts than (the) dramatic story of Najib being transformed from the healthiest (former) PM to a Bossku (Najib's moniker) who kept himself fit and trim to suddenly becoming a patient at death's door who received poor medical treatment in prison."
For the same reason, the DAP supremo said he does not believe the Najib propagandists and cyber troopers who claimed that the latter is being jailed because there is no rule of law or an independent judiciary in Malaysia.
Instead, he observed that Najib's propaganda machinery has given up on defending him from his 1Malaysia Development Bhd (1MDB) corruption affairs to solely focus their fire on allegations that he was denied justice by the courts.
"Is this why Zahid didn't become a witness?"
"Is this why UMNO president (Datuk Seri Ahmad) Zahid Hamidi did not appear as a witness in Najib's trial about what he publicly said in August 2015 that he had met the wealthy Arab family who had donated the RM2.6 bil to Najib – or was it because Zahid had told a tall story about the meeting?" asked Lim.
"Furthermore, if there had been an RM2.6 bil Arab donation out of admiration for Najib's policies, why were there no Arab witnesses in Najib's trial or an Arab statement to that effect?" Lim asked.
In a related development, Kit Siang also hailed the statement by Selangor's Sultan Sharafuddin Shah who yesterday (Sept 13) expressed his "solid support" of the Yang di-Pertuan Agong's recent statement that royal pardons cannot be meted out arbitrarily.
It is worth mentioning that Sultan Sharafuddin has also revoked and cancelled with immediate effect all honorary titles conferred by him on both Najib and his wife Datin Seri Rosmah Mansor following their respective corruption convictions.
Among others, Yang di-Pertuan Agong Sultan Abdullah Ahmad commented that the power to punish and pardon must not be used arbitrarily because those who do so will be held accountable in the "afterlife".
"It is noteworthy that there has been no comment from UMNO quarters to the observation of an UMNO-watcher that in the early days of the party it would be difficult to find a millionaire among its division leaders, but after over six decades of independence it would be difficult to find a UMNO division leader who is not a millionaire," noted Lim.
"Is UMNO incapable of reverting to the spirit and sacrifice of its early decades where UMNO leaders would be the first to denounce corruption and financial scandals like the 1MDB scandal?" he further asked. – Sept 13, 2022