AS cash-strapped developer Country Garden battles to stave off default, its sprawling US$100 bil (RM468 bil) development in Malaysia has come under scrutiny from creditors even as the Southeast Asian nation dangles financial incentives to lure investments.
Billed as a paradise with turtles and white-sand beaches, Country Garden's Forest City development in the state of Johor next to Singapore aims to house 700,000 people across 7,000 acres on four re-claimed islands upon completion in 2035.
Seven years in, Country Garden has invested RM20 bil (US$4.3 bil) in the project – a far cry from its initial US$100 bil plan. Today – with development still in progress – it houses fewer than 10,000 people or only about 1% of its target.
Forest City has become emblematic of the risks Country Garden and some of its Chinese peers took on with their debt-fuelled building boom not just at home but also in offshore markets.
As it struggles with weak cash flow and a wall of repayment obligations, Country Garden's prospects of deploying additional capital to the project now look increasingly challenging, analysts say. The Chinese developer is also unlikely to see any revenue boost from the project any time soon.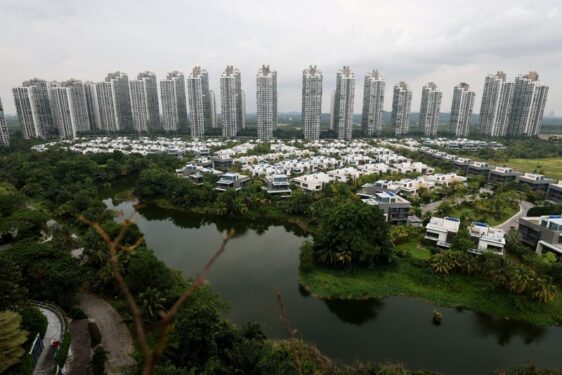 Late last month, Forest City said the project is proceeding as planned despite issues tied to the "political landscape and interference, economic stability, government policy".
"The company is also always prepared to review and to re-evaluate Forest City's development plans after 2025 if there is a current need to do so," it said without elaborating on its plans or the significance of the 2025 review date.
A joint venture between Country Garden and a private Malaysian company backed by the Sultan of Johor and the state government, Forest City has been beset by problems ranging from environmental to regulatory issues since its inception in 2016.
As financial stress mounts on Country Garden, help from the Malaysian government will be crucial for the success of the development and the company may have to bring in external investors to revive the project, according to Foo Gee Jen who is the group managing director of real estate agency and consultancy CBRE-WTW.
"Moving forward, I believe they need to parcel it out and invite JV (joint venture) partners to monetise some of the assets. That will be able to fast-track development of Forest City," suggested Foo.
The office of Prime Minister Datuk Seri Anwar Ibrahim did not respond to questions seeking comment on the developer's financial woes.
Home truths
Forest City said around 55,000 people visit its sales gallery each month and two hotels with 600 rooms combined, including a five-star golf resort, "are always fully booked."
"Seeing is believing," Forest City said in an e-mail response. However, what Reuters saw on a recent trip appeared quite different.
Empty palm tree-lined roads led to a mall where a karaoke lounge, a birds-nest museum and a herbal medicine shop was among the outlets shuttered.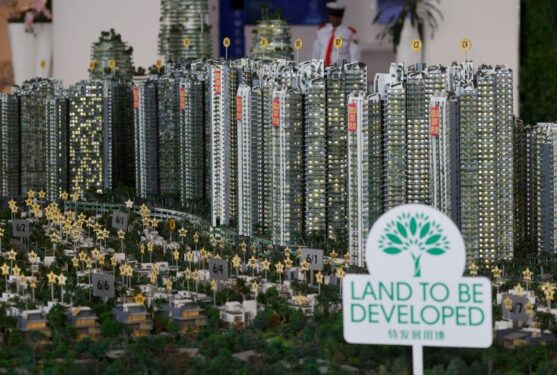 The four-storey mall had only around a dozen shops open with cleaners outnumbering shoppers. One of the hotels was largely empty and the rooftop bar that sat atop it remained closed even though its owners told Reuters in February it would open in March.
The sales gallery featured a massive replica of the development with many residential blocks marked "sold out" or "fast selling". But over the space of an hour, only a few families checked out the large showroom.
Several property agents said there was scant demand for units as potential buyers were worried about its low occupancy rate, environmental concerns and a lack of economic development.
"People don't want to buy into a block where there are just a few residents," said one agent who declined to be identified due to the sensitivity of the issue.
Another agent said his client was looking to sell a unit after three years as he was unhappy with the pace of development.
Forest City has claimed that 28,000 housing units have been completed so far with more than 80% sold to buyers from at least 30 countries.
Bondholder target
Country Garden has fewer offshore projects compared to some of its Chinese peers with some analysts expecting Forest City to be a target for some of the holders of its US dollar bonds if the developer is not able to meet its debt liabilities.
"The land plot itself is valuable," a Singapore-based bondholder of Country Garden said while highlighting the complications of dealing with a local government joint-venture.
Last month, Malaysia's central bank said local banks had limited exposure to Country Garden amid concern about its financial stress.
PM Anwar who is also the Finance Minister has designated Forest City a "special financial zone" to attract investment which Forest City said would help with its marketing.
Anwar did not say why his government was introducing incentives but analysts say it could be due to Country Garden's recent financial troubles, the project's history of negative publicity and an oversupply of property in Johor, the highest in Malaysia.
Still, for some Forest City residents, lower prices compared to Singapore and the quiet pace of life suits them fine.
"If not for my business back home, I'd love to live here permanently. It's so relaxing and prices are affordable," Chinese citizen Yang Ming Han who is in her 30s told Reuters. "Although home values haven't increased and it is not a good investment compared to properties in Singapore, living here is really nice."
Loh Wee Loon who has investments in five businesses in Forest City is confident China's real estate debt crisis won't pose any issues. "I don't think the troubles in China are a problem. It is a different management and I'm also confident because Forest City has the backing of the Johor Sultan." – Sept 14, 2023
Main pic credit: Reuters