FSMOne Malaysia, a multi-asset investment platform, expects the global financial market to recover despite the concern of an impending recession.
This outlook was revealed at a media conference following FSMOne's Recommended Unit Trusts Awards 2023/2024 that took place at Grand Hyatt, Kuala Lumpur yesterday (July 6).
The awards which are distinguished acknowledgements of outstanding fund managers that have produced best-in-category fund performances, saw 45 recommended unit trusts from 18 fund houses, including AHAM Asset Management Bhd, Manulife Investment Management (M) Bhd, Principal Asset Management Bhd, RHB Asset Management Sdn Bhd, Kenanga Investors Bhd, Eastspring Investments Bhd and AmFunds Management Bhd, to name a few.
"At FSMOne, our goal is to provide seamless access to a wide array of asset classes, geographical regions, and sectors," commented FSMOne general manager Koh Soo Cheng.
"Through FSMOne's online platform and mobile app, investors get to gain access to a diverse range of investments, including unit trust, stocks, ETFs (exchange-traded funds), bonds, managed portfolios and insurance."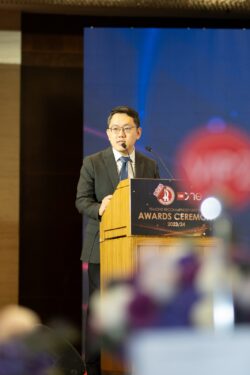 Koh said FSMOne understands the importance of striking the right balance between seizing profitable opportunities and maintaining a diversified approach, to build resilient portfolios that deliver sustainable growth even through market volatility and uncertainties.
"We recognise that particularly during the surge of a market or sector, investors may become overly aggressive and over-concentrated in specific markets or sectors," he pointed out. "That's where FSMOne steps in, aiming to help investors identify potential blind spots within their portfolios while uncovering potential opportunities."
Thus far in 2023, FSMOne has witnessed a decent performance in various equity markets after a disappointing 2022 largely driven by the technology sector, according to its portfolio manager Jerry Lee Chee Yeong.
As of end-June 2023, the global technology index recorded gains of 46.5%, outperforming the broad market index by 27.0%.
"From an economic fundamental perspective, there is a higher probability of an economic recession – especially in developed countries – following a series of aggressive monetary tightening measures since last year," projected Lee.
"Although the economic environment is expected to remain challenging in the 2H 2023, we believe that the equity market has to some extent already priced in the weakening economic outlook. The current valuations in both the bond and equity markets present attractive long-term investment opportunities for investors."
Looking ahead to 2H 2023, FSMOne is optimistic that Asia's equity market will take the lead after lagging behind in 1H 2023.

"Fortunately, factors such as relatively benign inflation, stronger economic growth and the expectation of a weaker greenback in the latter half of the year could be the driving forces behind the growth of Asian equities," opined Lee.
"In particular, Japan remains our favourite market as it not only benefits from re-opening tailwinds but has a strong corporate balance sheet and offers attractive valuations. We also see that there is potential for a rebound in the yen."
Apart from equities, investors must not overlook bonds as part of their portfolio allocation, especially given the current decent bond yields in both the local and global bond segments.
"Therefore, we would like to reiterate the importance of a portfolio approach to all our investors, where understanding one's risk profile and implementing proper asset allocation is crucial rather than chasing the best-performing market or sector," added Lee. – July 7, 2023