PAS has snubbed the unity government as the outcome of the survey of "100 Days of Administration of Datuk Seri Anwar Ibrahim as Prime Minister" found that "the rejection of the Malays of the current government is becoming increasingly evident".
Of the more than 35,000 respondents who participated in the poll, 71% of the Peninsular Malay community stated that they were dissatisfied with the government's efforts to fulfill its 15th General Election (GE15) manifesto.
Another 60% of the respondents felts that current state of the country as weak with 51% reckoning that the country's economy has worsened while 43% agreed that the country's current direction is wrong.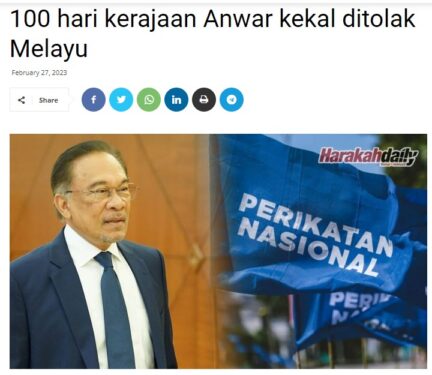 "Indeed, the current government is not the choice of Malay voters based on the GE15 results when the majority of Malays had chosen the Perikatan Nasional (PN) coalition," wrote National PAS Youth information chief Nazir Helmi in HarakahDaily.
"Added to this is the action of the current PH-BN (Pakatan Harapan-Barisan Nasional) Government which is very inclined to protect the hearts of non-Malays rather than protecting the interests of the Malays themselves."
Added the PAS mouthpiece: "This can clearly be seen through the Budget 2023 when the aspect of Bumiputera economic empowerment is not really cared about by Anwar's Cabinet."
Without any achievements and a concrete development plan as a direction to rebuild the country, the PAS mouthpiece described the 100 days of the unity government as "nothing more than a political puppet of PH and BN".
"Certainly, Anwar and (Deputy Prime Minister) Zahid will continue to face the challenge of winning the hearts of the Peninsular Malays," opined HarakahDialy. "And it is not impossible that the non-Malay community will also lose faith in the current government with their disappointing performance." – Feb 27, 2023