BY common street definition, a typical Ali Baba business is one when a Chinese listed corporation appoints a Malay/Bumiputera to helm the company as its 'figure-head' chairman.
Or that definition can be stretched to mean a business practice whereby a "Malay company obtains a contract from the government-sponsored affirmative action system for the Bumiputera and subcontracts it to an ethnically Chinese-owned company" to borrow an observation from a 2011 BBC article entitled "Malaysia's 'Ali Baba' system causes ethnic tension".
But obviously not in the case of the scandalous Jana Wibawa programme whereby there were numerous procedural abuses which culminated in the 'Bumiputera-fied' of friendly local Chinese-owned companies in Johor to obtain a piece of the pie from soon-to-be rolled our construction projects.
This has left Prime Minister-cum-Finance Minister Datuk Seri Anwar Ibrahim with little choice but to re-negotiate the Jana Ekonomi Pemerkasaan Kontraktor Bumiputera Berwibawa (Jana Wibawa) programme instead of scrapping it per se.
While he is not against awarding projects to another race, Anwar maintained that given the Jana Wibawa programme was specifically meant to lift financial burden of Bumiputera contractors in the post-pandemic period, there is the issue of financial irregularity that needs to be looked into.
"If we want to award projects to another race, I am not against it, but (Jana Wibawa) is specifically meant for Bumiputera, hence we cannot be confused about that," he told the Dewan Rakyat in his winding-up speech for the policy stage debate of the revised Budget 2023.
"Critics say it is specially meant for Bumiputera, that's fine. I let it continue. I did not cancel it but I re-negotiated it because of breach of financial regulations."
In a related development, Anwar also reiterated that he did not instruct the Malaysian Anti-Corruption Commission (MACC) to specifically investigate former premier Tan Sri Muhyiddin Yassin who was arrested by the anti-graft watchdog yesterday (March 9).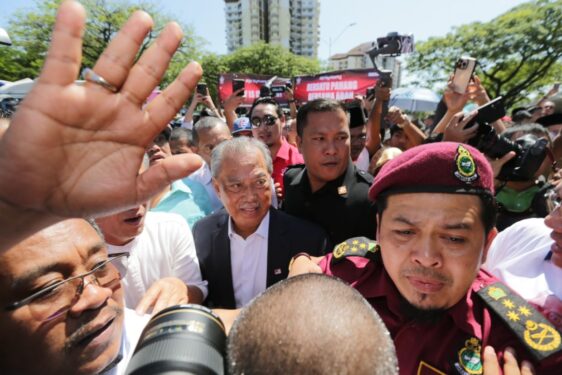 "I don't care whether it's Jana Wibawa 1.0, under Pagoh (Muhyiddin) or Jana Wibawa 2.0 under Bera (Datuk Seri Ismail Sabri Yaakob). It's all up to the MACC if they want to look into it. I didn't say they should investigate Jana Wibawa 1.0. If they feel there is evidence in Jana Wibawa 2.0 under Bera, they are free to investigate, too. I never instruct them," explained the Tambun MP.
"Slander and criticism happen. I want to make it clear that I am not here holding this position to suppress anybody for I understand well about what selective prosecution means. Why suspect us? Ask MACC and the Attorney-General (AG) for explanation."
On this note, Anwar told the opposition camp to examine in detail the charges and evidence before accusing the government of selective prosecution.
"As if corruption has to be defended (just) because they are our friends. Look into what are the charges first, check against (the existing) evidence whether there is corruption or not or whether it is slander," he reminded his detractors.
"If it is slanderous, we don't need PAS (leaders), I will stand up and fight against it myself. But if there are indeed elements of corruption and abuse of power, where are our principles when we continue to talk about Islam, recite Al-Quran, Hadith and (other) scriptures to defend corruption?" – March 10, 2023