HUNDREDS of peaceful protestors took to the streets this afternoon to protest the Goverment's alleged mishandling of the littoral combat ships (LCS) project, as they called for heads to roll and accountability from the authorities.
The #ManaKapalLCS rally, held in the rain outside the SOGO shopping mall in Kuala Lumpur, started at 2pm and ended about one to one-and-a-half hours later.
Protestors also carried placards of the faces of former defence minister Datuk Seri Ahmad Zahid Hamidi, former prime minister Datuk Seri Najib Abdul Razak and Defence Minister Datuk Seri Hishammuddin Hussein.
According to media reports, no untoward incidents or arrests were reported.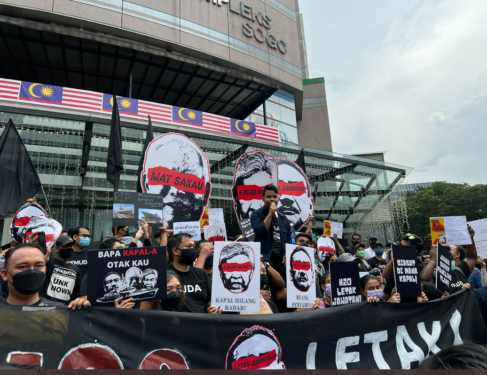 The police, who were keeping a close eye on the protest, had earlier blocked vehicles from entering Jalan Tuanku Abdul Rahman.
The protest's organisers want the Government to form a royal commission of inquiry (RCI) into the LCS scandal, following the release of a damning report by Parliament's Public Accounts Committee (PAC) on the RM9 bil project.
The LCS project is the talk of the town after the PAC revealed that not a single ship had been completed – although the Government spent RM6 bil on the project so far and five ships should have been delivered by now.  
Malaysian United Democratic Alliance (MUDA) co-founder Amir Abd Hadi, who led the protest, told protesters that Hishammuddin should step down over the scandal, according to Free Malaysia Today. 
"Don't be swayed by yesterday's site visit pics"

He also told the public not to be swayed by images of an incomplete LCS from yesterday's (Aug 13) site visit with the media to the Lumut shipyard in Perak, saying it looks similar to pictures of the ship that were shown in 2017.
Others who spoke at the rally, including youth leaders from DAP and PKR, called for Government intervention if there were elements of corruption at hand.
Some raised concerns about the RM6 bil worth of taxpayer money being put to better use.
"The RM6 bil could have been used to build 243 schools, 108,000 houses, and free breakfasts to 200,000 students for a total of 64 years," said Muda information chief Luqman Long, The Vibes reported.
MUDA president and Muar MP Syed Saddiq Syed Abdul Rahman said the scandal is "no joke" as the people have had enough.
Amir, meanwhile, told the public not to be afraid about speaking up over the scandal, saying it was the public's right to voice their concerns and hold those responsible accountable.
Amid the blame game by the opposition and leaders from the previous Barisan Nasional (BN) Government, Hishammuddin has said his ministry will comply with all of the PAC's recommendations for the project.  
The Malaysian Anti-Corruption Commission (MACC), meanwhile, has completed its investigation into the LCS scandal for alleged graft and recommended charges to the Attorney-General's Chambers (AGC). – Aug 14, 2022
Main photo credit: Isabelle Leong