A FORMER non-independent non-executive director of technical rubber compound specialist GIIB Holdings Bhd (formerly Goodway Integrated Industries Bhd) is of the opinion that the latter has been 'manipulative' by concealing the real reason/s behind his recent resignation from the company.
In its Bursa Malaysia filing dated Jan 18, GIIB Holdings had stated that Wong Weng Yew, 39, has resigned from the company because of "personal reason" when the former had stated in his resignation letter that he was stepping down for being unwilling "to participate in any malpractices and/or crimes committed by certain individuals in GIIB Holdings".
"Further, I honestly believe that the accounts of GIIB Holdings and its group of companies are false and being manipulated, and I will not accept responsibility for the same," he had penned in his resignation letter sent by e-mail dated Jan 17.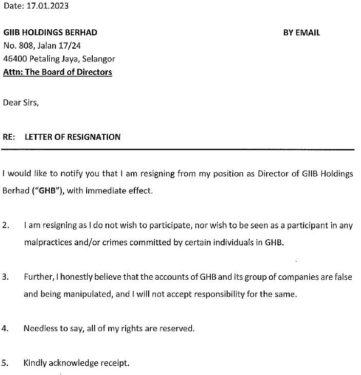 Instead of divulging the truth, the company went on to state in the "Details of Any Disagreement" section of Bursa Malaysia's "Change in Boardroom" questionnaire that Weng Yew "was dismissed of his (earlier) executive position for his misconduct in his capacity as executive director of GIIB Holdings".
"Not only had they stated 'personal reason' which is far from the truth, details of disagreements between both parties were also unilaterally described by them," Weng Yew told FocusM.
In GIIB Holdings' local bourse filing, the company claimed that Weng Yew has also made allegations against certain directors and the company over suspicious transactions and fraud.
"These allegations were addressed and cleared by the forensic auditors as announced previously. Mr Wong has also filed similar complaints with the authorities which the company and the affected directors will address accordingly as and when necessary," GIIB Holdings pointed out.
"The company's civil suit and police reports on Mr Wong for alleged criminal breach of trust and several other offences remain active and the company will continue to pursue these cases to its logical conclusion."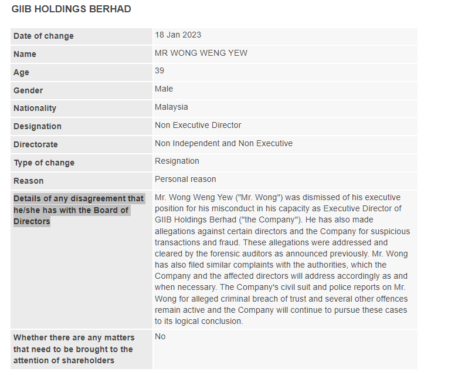 Despite that, it was GIIB Holdings which found itself at the receiving end with the Malaysian Anti-Corruption Commission (MACC) having hauled its CEO-cum-executive chairman Tai Boon Wee and executive director Alison Wong Ping Kiong to the court of law on Jan 13 to face charges of furnishing fake documents to the company's external auditor.
Both Tai, 63, and Ping Kiong, 60, pleaded not guilty in the Kuala Lumpur Sessions Court for allegedly furnished fake documents to Grant Thornton Malaysia PLT in relation to the sale of RM2.95 mil worth of machinery that did not exist.
Ping Kiong pleaded not guilty to four charges of giving fake documents to Grant Thornton before judge Suzana Hussain. Her charges were framed under Section 18 of the MACC Act 2009 whereby if found guilty, she could be jailed up to 20 years and fined RM10,000 – or five times the value of the bribe – whichever is higher.
For Tai who was charged with colluding with Wong, his charge comes under Section 28(1)(c) of the MACC Act which involves abetting or engaging in a criminal conspiracy to commit any offence under the Act. If found guilty, he could face the same punishment as Wong.
The duo who was represented by lawyer Amer Hamzah Arshad was allowed to post bail – RM60,000 for Ping Kiong and RM50,000 for Tai – but had to surrender their passports.
In its Bursa Malaysia filing dated Jan 16 to announce the court case, GIIB Holdings revealed that the case of "suspicious transactions" came about following an allegation by Weng Yew which had earlier led to the MACC having remanded Tai and Ping Kiong on Sept 7 last year for investigation.
"After cooperating with the MACC during the remand, there was no further inquiry by the MACC towards the company and directors until a notice to be present at the Kuala Lumpur Sessions Court was served to Tai and Ping Kiong on Jan 12," noted GIIB Holdings.
"Tai and Ping Kiong have sought legal advice and are defending themselves against the charges including but not limited to seeking the Attorney-General Chambers (AGC) to review the charges against them."
The company added that both Tai and Ping Kiong will provide a written explanation to GIIB Holdings' board of directors on the charges against them for further deliberation and action, if any.
At today's close of trading, GIIB Holdings was down 0.5 sen or 5% to 9.5 sen with 492,700 shares traded which valued the company at RM56 mil. – Jan 19, 2023