FOR many years, Kepong was a barren quarry mine easily recognised by the rows of old shoplots that housed popular eateries and businesses frequented by the locals.
The name itself translates to 'enclosed', derived from its location being surrounded by the greenery of Bukit FRIM. A relatively peaceful town that poses as a stark contrast to neighbouring areas such as Mont Kiara and the hustle and bustle of the city centre.
Although not immediately, that all began to change upon the arrival of Desa ParkCity which introduced a holistic development that didn't just encompass residential units but an entire ecosystem around it.
Spanning 473-acres, different projects were rolled out in phases to slowly populate the parcel of land and that continue to even until today. The residential components were aided with various amenities including their retail projects being Waterfront and Plaza Arkadia.
Desa ParkCity helped elevate the profile of Kepong by attracting a new array of people from neighbouring areas. Since its introduction, Desa ParkCity has showcased Kepong's potential to cater to other (upper) market segments.
This prompted developers to follow suit by building high-end landed residential projects within the vicinity. However, as newer projects were introduced, the rest of Kepong didn't modernise as quickly.
If one were to take one step out of the enclave, one can immediately notice a disparity between the cultures. Just further down the street, there are dated shoplots buzzing with activity, an older part of Kepong that has its own charm.
In fact, the development of Kepong is inevitable and can be somehow compared to that of Mont Kiara that went from a rubber plantation to an affluent township anchored by its condominium developments that have stood the test of time.
Over the past few years, more holistic projects have been introduced to the area with Metropolitan Waterfront and Kiara Bay which are earmarked with a gross development value (GDV) of RM750 mil and RM15 bil respectively.
These are masterplans that encompass not just retail but residential components giving existing residents and those keen on upgrading more options to choose from.
Metropolitan Waterfront is a 14.6-acre masterplan overlooking the Metropolitan Lake with plans for both residential and retail components.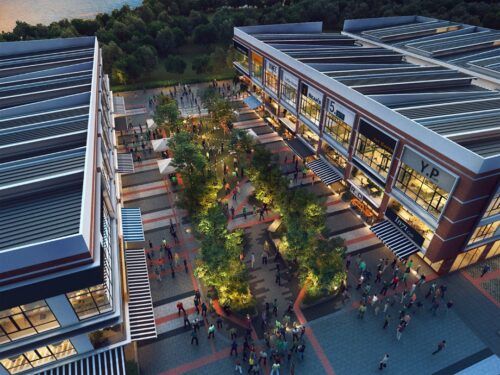 The developer, Metropolitan Lake Development, recently launched its maiden project – Keponggi Square – which is a commercial shoplot development embellished by its open piazza concept that will house 73 retail outlets.
With Kepong's selection of shoplots being built decades ago, Keponggi Square fills a gap in the market for astute investors who are looking for a newer development with features that fit the needs of today's retailers.
The piazza is predicated on merging an entertainment locale with the retail component and has a budget of RM2 mil allocated to sustain a two-year programme comprising open air concerts, bazaars, art exhibitions and more.
The following phase will comprise a lakeside residential apartment targeted at upgraders looking for a more spacious place to call home. Kiara Bay is a 73-acre masterplan that looks to create an eco-living destination comprising residential units, a retail mall, office spaces, hotels, healthcare centre and educational institutions.
With the influx of these new masterplans, it begs the question of accessibility and how Kepong can accommodate the increasing number of people patronising these different developments.
This is set to be addressed by the recently launched Kepong Baru MRT station as part of the Sungai Buloh-Serdang-Putrajaya line that will provide easy access to those coming from 34 different locations.
There are many exciting new developments within Kepong with change on the horizon. However, it is a destination with character and charm that caters to not only an influx of people but the existing residents who treasure the parts that haven't changed.
It looks to be a multi-faceted township with two extremes that will see major development but stay true to its roots. – Dec 16, 2021